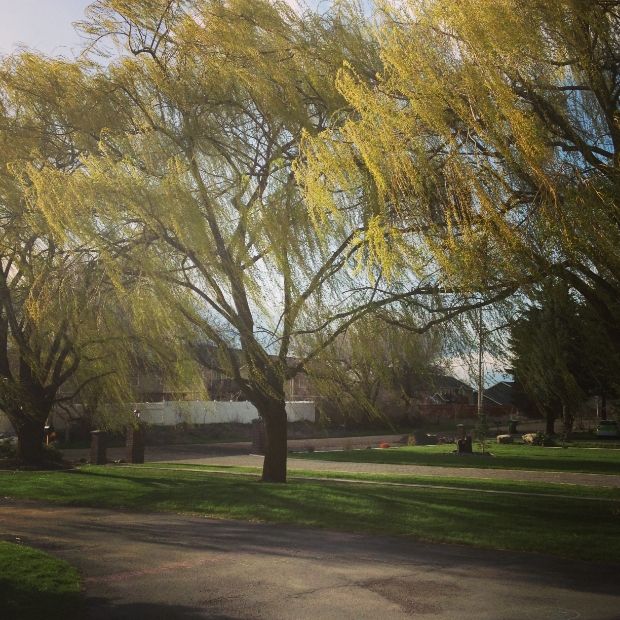 Do you ever have thoughts that cross your mind that embarrass you even though no one else knows, even though the words never crept past your lips?
I had this just the other day when the above statement crossed my mind. I had a particularly hard past month. I can honestly say I was depressed. I can honestly say that I had lost all feeling for anything. Being excited, being sad....it all seemed the same....blah. Sometimes I get into a spot where I am just waiting for the next book to fall off the shelf. You know what I mean. And this is a horrible attitude to have and even worse outlook to hang on to. Now I could sit here and give you at least 20 reasons why my emotions or lack there of were justifiable or I could be down right honest and share why I have been absent from here over the last weeks and how I have determined what has actually happened to me.
So the words that crossed my mind were, "When did this all become such a hassle?" Immediately after these thoughts crossed my mind I cried for the rest of the day and I shut out the rest of the world. And this is when I knew I had finally made a breakthrough with this depression...this black cloud. I finally had pinpointed the emotion I was most troubled with. I felt hassled. The things I feel hassled by the most are the things that make this thought feel so shameful. I felt hassled by my largest blessings, hassled by the things that hold most dear to me. I also felt hassled by emotions that I had yet to deal with. Some of these emotions have become old scars that actually tear from time to time. And guys I am here to tell you that it is embarrasing and down right humbling to tell you that I don't have it all together....which I am sure most of you know already.
It started awhile ago it was like a freight train that plowed right through the center of me. I started to forget who I was working for. I started working my hardest at pleasing and loving my little family for their sake. I wanted my kids to know that I teach them here in our home because I love them, because I want whats best for them....I want them to know that I feed them all of this beautiful fresh organic locally grown food because its what I believe is the best for them, I am a tiger mom because I believe an education is your one ticket to take you wherever you want to go, I want them to believe that I am super strict about how they behave because I want them to grow up to be good little citizens...good little worker bees. Instead of them returning my good works with thankfulness and gratefulness and recognition they cry and whine and complain and argue and fight and scream and refuse to do their lessons and yell and sometimes they say things that Jager's don't say, I bet you can't imagine this. I have been working my darnedest to show Brian I love him through keeping this monstrosity of a house spotless, making sure dinner is on the table by the time he gets home, not freaking out when he is late or puts in way to many hours in a week or answers his phone in the middle of dinner, not complaining if we miss out on date night and being available for whatever he needs. I thought this would be returned with a feeling of acceptance, of devotion, of love and with dedication but although I know this man loves me and their is absolutely nothing wrong with him or our relationship the return was not what I needed. And this friends is where the feeling of hassle began and I felt abandoned and abandonment is an old friend of mine. Instead of all of this feeling like a mighty calling it began to feel like a job. I hate having a job! I have had them I will probably have them again and they are a necessity for survival in this big world, but I am an earth passion driven person who works best when she is working within her spiritual gifts, if I can not connect I lose interest, I develop a bad attitude and I start to feel like I need to change paths. And this is when I start to feel like I need to jump overboard surrender and pray that someone will just give me a time out.
About simultaneously to this all happening I was reminded of my Dad. Not the Dad I talk about so lovingly on this old rag so often. The Dad on my birth certificate, the man who taught me to fish, the man who taught me to ride my bike, the one person in this world whose relationship lost definition for me as years went on. It's not something I talk about easily. It's not something I am even finished dissecting or working through. My Dad died two years ago last week. No one called, no one remembered -my siblings have resolved themselves to believe that I had no feeling for this man, I believe they think that I hated him up until the day he left this earth and so with that thought how can I blame them. They send each other notes and condolences and hugs and I sit and reflect. I reflect on what I want to feel, on what I actually feel and what I wish would have happened. The truth is my Dad died to me about four years before his actual passing. I cut him out of my life. I made the choice. I held strong with choice and I waited in the wings for him to make a choice. And I was hoping all along that he would choose me. I was hoping all through those 4 years that he would pick up the phone in a loving way, that he would act out of love instead of anger. But he didn't and once again I don't blame him. I cut hm off and never talked to him again. Never explained my choices, I just attempted to move on. Waiting for two words to be said to you by another who has no idea that you would expect that from them is excruciating and dare I say even if those two words are "owed" to you this expectation is wrong . Broken expectations from those who are supposed to be in your circle of trust is the most painful thing I have ever experienced and most times the expectations are unreasonable and selfish. Two years ago I received a phone call from a liaison someone who put themselves in a position to help me. Two years ago I learned more about forgiveness than I ever thought I would or could have. Two years ago three short weeks before my Dad passed away I stood at his bedside and forgave him for not saying those words and he still refused to say them back, I asked him to forgive me for causing him hurt and he did. Two years ago three weeks before my Dad died I let go of hopes and dreams I had for 20 years. Two years ago three weeks before my Dad died I said goodbye to him with the knowledge that I would never see him again and nothing would be resolved quite as I had planned. But I believe the way it played out was exactly what God planned for me in that situation. The two words I was looking for were, "I'm sorry." This may seem petty to you or small. But I have to tell you if those thoughts cross your mind you have no idea or grasp on the power of forgiveness. I believe God taught me a huge lesson in forgiveness that day. Saying I'm sorry doesn't always fix it folks, asking for forgiveness doesn't mean the other person will forgive you and just because you say I'm sorry first doesn't me they will say it back. Well let me tell you I went into the whole experience thinking I was doing this great thing for him, giving him the dignity that he deserved in his death and maybe it did, maybe I succeeded in that. That day I drove to the care facility he was with all of the windows down, It was a beautiful warm spring day, I had christian music blaring as loud as possible to drown out my doubts and I was praying out loud the whole way. I was praying for a covering I was praying for a purpose in it all, and not only did I want there to be a purpose but I wanted it to be evident. Oh boy we get demanding sometimes don't we. I remember that in the last few minutes of my drive Beautiful Things by Gungor played on the radio. I had heard this song dozens of times, Brian and I hand sang it in church but this time I heard it in a new light. I believe God used the words of that song to speak directly to me that afternoon. He was making something new. I was reminded that God can make beauty out even the ugliest situations and that's what this was. When I entered through the doors of that facility I felt a covering, I felt a purpose, I felt that purpose was evident. It wasn't about me or what I needed, it was about one of God's creations. A man that he made, a man that he knit together in his mother's womb, one of his children. I was shown in this moment that God never really stops loving any of us, I felt this with every fiber of my being that day. And what He was asking me to do was for HIM, not the man, not for me, but for HIM!
This is the reminder I needed this month. This was what I needed to believe. That all the "things" I do, all of the "works" that I do are for HIM! They aren't for my kids, they aren't for my husband, they aren't for anyone they are for God and God alone.
It is so easy to let the weight of this sin filled world to bog us down. It is so easy to let those sins make us crabby, make us search for purpose, make us look from side to side, wish for things to be different. It is easy to feel hassled because it is hard if you are trying to do it all yourself for people who are not able to truly fulfill your longing. It is easy for me to want recognition in my role here as house wench (kidding;) But really I am mother because he gave me that, I am wife because he gave me that....I am daughter because he gave me that. And so the true love, the true recognition, the true thankfulness and pride, and the true forgiveness can only be given to me through Him who gave it all to me.
And so once again I move forward. I am still very much a work in progress. I never want it to seem otherwise. I never want God to be finished with me.
t's spring which is a great reminder of the ability to have a fresh start.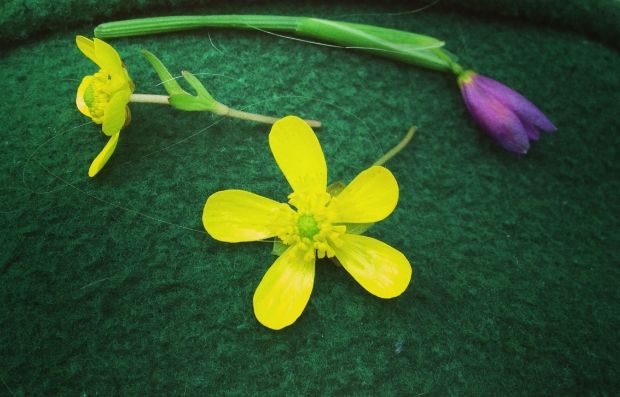 Grace lovingly carried these tiny flowers on her sweatshirt for a two mile hike just to watch them be trampled at the end. It broke my heart. But she picked new ones and all was well. My kids are great reminders of what it means to be His!