So my fridge started dieing pretty much the day we bought our house. I have nursed it, taped it, laid hands on it, prayed over it, and that seemed to help. Every other time you opened the door the condiment shelves would pop off and they would proceed to roll over the floor because this old fabulous house is anything but level. And although that provided endless entertainment, we figured before it completely went kaput we would put it out of its misery and get a replacement.
(Insert a Hallelujah Chorus HERE)
Anyway, one of Brian's accounts happens to be at Best Buy and he has a connection in the appliance dept. who told him that we could get a sweet deal if we bought our appliances there so that's what we did. I had a few requirements, no water dispenser (I really do not like fridge water, had to have a inside the freezer ice maker, white was my preference (I am old school like that), and it had to be big and when I say big I mean the biggest possible:) What can I say I know what I want. So long story short he found me what I was looking for at an AMAZING price and 6 days later I have 29 cubic ft of cold happiness.
So back tracking a bit into the story, a few days after the purchase I realized that since I bought a new fridge that had a much larger capacity then my current fridge we may have space issues while we wait for the kitchen remodel to take place. And after some handy internet searching for exact dimensions of the new lovely appliance we found that yes indeed it was about 10 inches deeper than the current fridge. And this is where the praying began for the new fridge. From my measurements that meant I wouldn't be able to open my oven for the next 4 months......hmmmmmmmmmmmmm....worry worry worry. Well Wednesday came...delivery day. Nice little free delivery man came to the door and said he had my fridge. He looked at my kitchen giggled and said okay:) I giggled told him to set the fridge in the dining room and my husband would take it from there. He laughed again and said you see from my measurements the fridge isn't going to fit through your door. (As I mentioned before our house is old and nothing about it is typical and things never can be done easily.) The the persistent little Best Buy guys said don't panic. After removing the doors, the freezer drawer, the bottom of the fridge, my front door, and the hinges from the trim. They barely fit the fridge through the front door. He laughed again and said congratulations. Basically it took them 1 hour to get it into the house because of all the fanagaling, but whats done is done.
And guess what else it fits where it needed to fit the one door can not swing all the way open but most of the way;)
And now I have the biggest fridge I have ever seen and boy am I spoiled and happy:)
Without further ado here are some pics. I do have a few bottles of champagne at the moment, we are having some friends over tonight to ring in the new year so don't worry we aren't drinking all that ourselves;)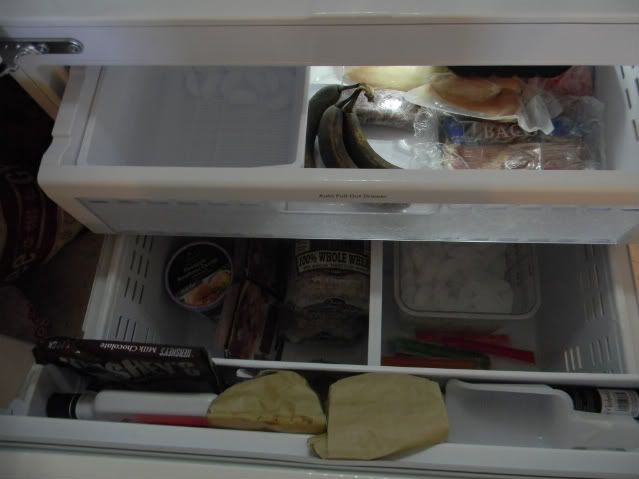 The freezer two layers...what, what:)
Look it all the space it makes it look like I need to go grocery shopping however I just did:)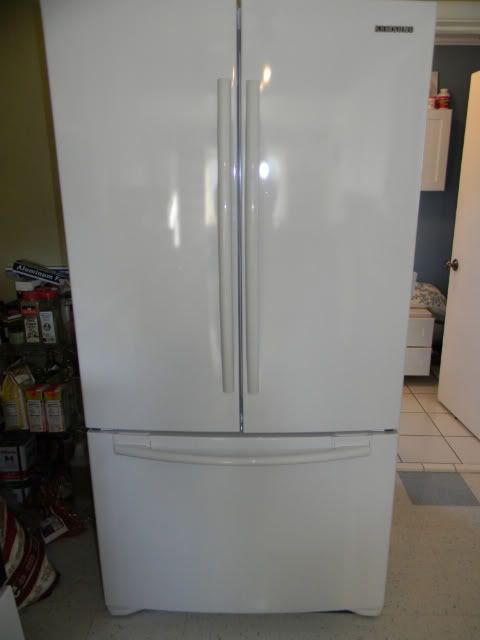 Isn't it shiny!?
Sarah said she wants to marry it.........
I love it and I am so glad it fits, I never can do anything the easy way its seems like!
Happy New Year to all of. I hope this year was a good one and I hope next year is even better!!