I love family stories. I love seeing how people create their families. I love that there are so many options in which to do so. And love that no matter how different each family begins the end result is much the same. I have been blessed enough to be part of many friends journeys in becoming a family, some have been more heartbreaking than others. Some have started out so incredibly sad but ended so joyously. BRian and I have our stories on how family went form two to four....it is personal to us it is part of what makes us 4Jagers:)
Sometimes your own friends become part of your family though if you are ever so blessed. We are blessed with some of these friends. Its when the word friend doesn't seem to cut it anymore that you know you have made this crossover. When you have walked alongside each other through enough good and bad that you seem to know more of the story than you don't.
Our friends Sarah and Justin are like that. On this old rag of a blog I usually refer to them as The Rah and The Brewer. I have explained before what these guys mean to us but you should know they are the gift that keeps on giving and I am always praying that we bless them even half as much as they bless us.
Well the pair of them are in the process of starting their own family. It has been an amazing thing to watch. It has been an amazing thing to be apart of and if you ask me there are not two people more suited for this ride. Justin and Sarah are in the process of adopting a tiny person from Bulgaria. They have put in so much work already. They have spent countless hours pouring of paperwork and documents to prepare themselves and this tiny person for what is to come. Yet they still wait. The waiting to me seems like the hardest part. Most of the world does not see them as parent yet. I mean there is no visible baby. There is no tantrum ridden toddler thrashing about. But I can assure you that if you took the time to talk with them about their family you would know that they have a child that is already a very big part of not only their hearts but their homes as well. And so has this child become the same for us.
Sarah and Justin have lovingly dubbed their tiny person Bubs while we wait to see who they are to bring home. My children are well aware of Bubs and although they are a bit confused that this is taking so long. Grace is very concerned that they are not as ready as they should be and Elliot is hoping for a boy. They must ask about Bubs at least twice a week if not more and I think its because to them it's already happened. Bubs is already real and here and alive and part of their hearts. And in my opinion that is how it should be.
We so quickly forget sometimes that becoming a family isn't as simple as making the decision and taking care of some business to coem out with the end result of a trip to the hospital to bring a pink or blue bundle into the world. There are many ways and sometimes many struggle in getting to the end result.
At Christmas I decided I was going to make a quilt for Bubs. Now from the beginning I have thought Bubs to be a boy. I had a dream about him...it was real....judge on judgers. No one really knows yet:) But the quilt I made ended up looking pretty girly. So hopefully his favorite color is pink. The reason I wanted to sew the quilt was because we too are so very excited, so very much anticipating his/her arrival and it felt good to create something with those thoughts in mind.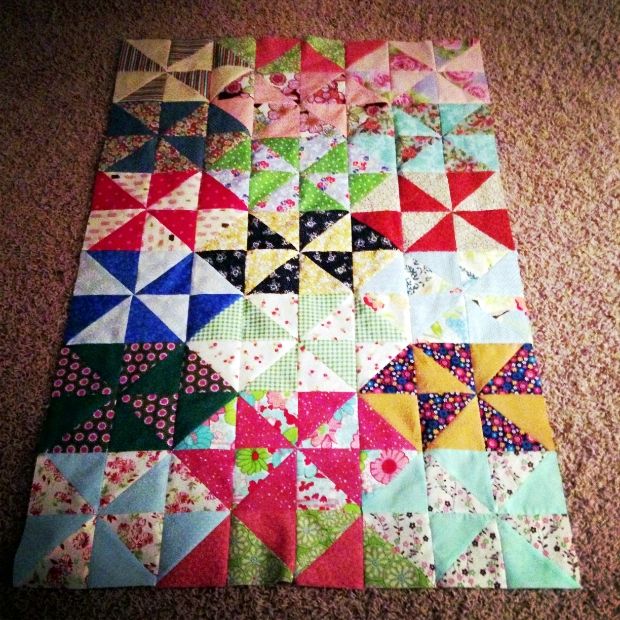 It still needs two more strips and the binding.
I chose a scrapped pinwheel pattern. Not all of the fabrics match separately but together they fit perfectly. That is how a family works too.......
We Love You Bubs And We Can't Wait Until You Come Home!