With our pig purchase we were lucky enough to get a fair amount of sausage. Let me tell you the sausage does not disappoint, in fact it is pretty darn delicious.
Did you know there are plenty of ways to eat ground sausage that do not include pasta or a casserole?
I am going to introduce you to one super simple easy way. And although you can go many directions with this concept I will try to give you some concrete ideas so you can feel the freedom to take it in any direction you want. Change up the meat. Change up the veg. Change up the spices.
Hash with Sausage and Fall/Winter Veggies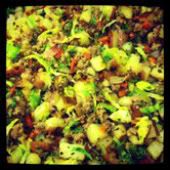 4 red potatoes...the smaller ones- Diced. I generally dice up one small red potato per family member, this gives us plenty. So if you are a family of 5 or six dice up that many potatoes respectively.
1/2 - 1 onion diced
2-3 carrots diced
2-stalks celery diced
1 lb of sausage
7- 8 brusel sprouts sliced in ribbons - Sounds fancier then it is slice them like cabbage.
1 Tblsp sParsley...dried is fine.
1 Tblsp your choice rosemary, thyme whatever your favorite herb is. What you have dried on hand is a great start.
salt and pepper as desired
-Dice potatoes and put into cold water in a pot. Bring to a boil. Once boiling boil for 5 minutes. Once boiling is completed promptly drain. Do not over boil you potatoes, you want them you be tender not soft.
-Cook off Sausage - Drain in a strainer over a bowl.
-Reserve 2-3Tblsp of grease from sausage and return that grease back into large frying pan.
-To the grease add your onions carrots and celery until tender.
-Once veggies are tender add herbs and cooked potatoes.
-Cook all veggies together until the potatoes start to get the tiniest bit brown.
-At this point toss in the brussel sprouts and sausage, toss just until the brussel sprouts start to wilt.
Serve to your family with all the toppings. Some ideas are salsa, sour cream, ketchup and/or hot sauce.
Add please make sure your hash is adequately seasoned with salt. Under seasoned food is a crime...just saying.
And by the way if the sausage grease freaks you out feel free to substitute olive oil or butter, but don't expect the same great flavor.
Recipe #2 for you. Tomorrow I will give you a soup recipe using ham steak. And later this week we will talk about roast. And then if you want me to address some specific cuts (like my friend Julie)...make a request I will add it to my menu next week.
Yeah for home cooked meals!