Every time I make an appointment around here I am faced with the normal question...what time works for you? It causes me to giggle...as anytime between the hours of 9 and 3:15 Monday through Friday work for me. The question of what on your list tomorrow holds no weight at this point as tomorrow brings the same as the one before, not a whole lot. I am not complaining as I am an overcommiter....this has been therapeutic. It is just strange how the joyful moments of my day have changed and maybe in some ways for the better.
My joyful moments include picking the kids up from school, dropping them off seems more unnatural then ever at this point and I can't wait to see them in the afternoon. Kissing my husband when he walks in the door after work and asking him how his day was. Making dinner maybe this hasn't changed much but I can spend all afternoon making different elements if I want. Helping my grandma with projects and spending time sewing, and knitting...exploring the city together....it has been more of a blessing then anything having her here. And receiving random phone calls from friends back home, conversations filled with well wishes and info that I am missing out on. I enjoy our evenings together more than I have ever been able to as they are a blank slate to entertain however we see fit. This time is a blessing it has opened my eyes to the things we have been missing.
But I would be lying if I didn't tell you I don't miss my old life. I miss Eagle Boosters, my friends, church, and school. This is a completely new ball game and I have to remind myself at times that there is purpose in it.
I now have a chore schedule to clean all 4400 sq ft of this monstrosity of a home. Carpets on Tuesdays, hard floors on Thursdays, bathrooms on Wednesdays...I really dislike cleaning it is my nemesis so the breakdown really helps. Cooking dinner is my oasis and something to look forward to everyday. The kids were begging for pizza the other day as we have eaten at home for every meal since we got here...I guess my cooking is good but everyone likes a treat now and again:)
Currently I am getting more used to the idea that this life holds great meaning too and my ability to create a nest for my family is very valuable. It is hard though to go from a list of titles from others, to just mom, wife and granddaughter. But God is teaching me...showing me the way a little more each day. And I can see how this blank slate is beneficial for those around me. And hopefully I will see how this benefits me as well over time.
In completely separate news, I received an invitation to a Holiday Celebration thrown by none other than Mr. Jager and his colleagues for their employees. Its pretty swanky apparently.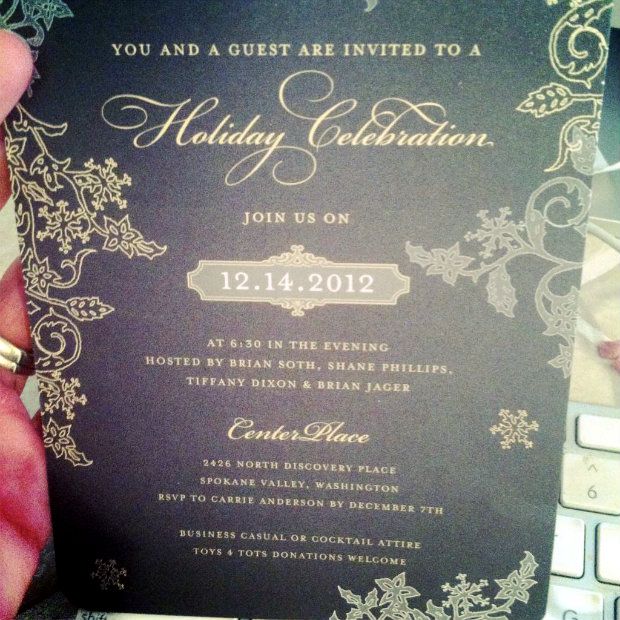 I am pretty pumped. Not only because I have something to look forward too either. Nope I am a registered dress hoarder...yep thats me. I buy them up cheap and store them away. So I've already got the dress. I scheduled a hair appt...oh yeah I found a salon yesterday and got my hair did:) and so all I am going to splurge on is a pair of shoes because I may be a shoe hoarder as well. And now from the sounds of it I may be becoming a better kept woman than I originally thought. At least I can look the part. My grandma says I need to carry myself as a professionals wife....hahahaha! You can take the girl out of farm country but you can't take the farm out of the girl!