So I broke my own rules today. You see I have a job tomorrow. The job is me cooking for 13 high end clients. First I must say I love high end clients but more on that later. Back to my rule. I made a rule a long time ago that the day before a catering would be devoted to just that. Now on big jobs, weddings, funerals and the like, I have no choice but to devote an entire 4-5 days to a catering. But sometimes with a smaller job I tend to give my self more leeway, hence the need for the rule. However, faced with the nice weather and the opportunity to go on a field trip to the beach (my favorite place), I chose the beach and 15 adorable and fun 2nd graders.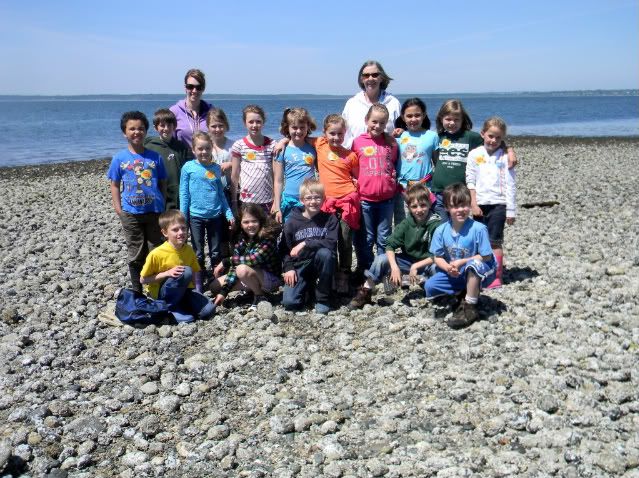 It was way worth it, during the field trip I though nothing of the catering I was faced with, however afterward I quickly became freaked out about the amount of work I had to do this evening to catch up. So what does this Angry Blueberry do to get herself through the evening but stop for a coffee mid supply shopping trip and get herself all caffeined up for the long evening ahead. The problem was they were offering double shots and how could a frugal girl pass that up, it would be waste right? Brian reminded me upon my arrival home that I should always pass up double coffee shots because me on lots of caffeine and a sharp knife freaks him out:) Such is life to each there own....I am happy to report that I finished my prep work an hour ahead of schedule:) And Brian went to a movie so he didn't need to witness my wicked knife skills for to long.
Back to the field trip, first of all it was a beautiful day, I even was able to achieve the perfect amount of pink from the sun.... The kids were amazingly behaved(of course they were they are form Ebenezer;) And there was plenty to be found in the tide pools today. I even scored some sand dollars for my beach collection. Elliot had a great day, I had a great day and I was reminded that my children are my ultimate purpose right now, and that was totally worth breaking the rules!
Now why do I love high end clients. It is not for the reasons you may think. The main reason I love high end clients is because they don't mess around! They expect what they expect and if you don't deliver they blacklist you, send you your final check and you will never work in their community again(I love a challenge). They don't call you a half a dozen times in the week prior to the job because they are busy golfing, moving tables form the big house to the new house to accommodate their guests, ultimately they are just to busy to worry about if you are going to come through with what you said you would do. This creates bliss for me! It gives me time to process, provide and deliver the best that I possibly can. The other thing I love is that they usually have the nicest most well stocked kitchens , which makes for a nice work environment.
What am I making???
Appetizer Hour
Greek Style Stuffed Mushrooms
Bleu Cheese Stuffed Tiger Prawns Wrapped in Prosciutto
Seared Scallops Garnished with a Reduced Carrot Sauce (sounds weird, its not)
Salad Course
King Crab Cocktails (not traditional)
Dinner
Lemon Thyme Halibut
Roasted Asparagus
Mushroom and Thyme Risotto
Dessert
Brown Sugar Souffle served with creme anglaise and macerated Grand Marnier berries
And that's that. I am excited. Kristin and Brian are coming with me. The dinner is plated and the apps are passed so I need me some staff:)
In other news Grace learned to ride her bike without training wheels and lost both her front teeth within 10 days, I am so not ready for her to grow up, it seems I have no choice. If you ask her she will tell you she is famous because the neighbor boys witnessed her inaugural ride and cheered her on:) I love this girl! She is the picture of confidence, it melts me:)
Oh and she totally wears felted flower pins to kindergarten, because she is all about the accessory (Which she doesn't get from me). She also wheres rhinestone studded sunglasses into school and on the school bus. Shes famous...just ask her:)