They actually refer to the tour as Seattle Food Tours because they are always changing up the restaurants for the tour. You can email
here
to book a tour.
First off you walk from restaurant to restaurant and I can't help but think this would be more enjoyable if we weren't experiencing torrential downpour and unfailing wind. However you stop at a restaurant every couple blocks so you hardly notice the walk. Each restaurant stops last around 20 minutes. At each stop you get enjoy a tasting size portion of a dish prepared just for you. Some are paired with a beverage.
Our guide was amazing her name was Heather. She was super informative and she has been doing food tours for about three years. Turns out she is a baker so she has some great personal food knowledge as well.
The restaurants were all self made restaurants, meaning blood, sweat and tears were but into each one to make a go, this being said each holds a rich history within its self. Each restaurant has a menu determined by a chef or cook that loves ingredients, that wants you to experience the ingredients. You will not find freezer food on this tour and because this is my kind of food and my kind of cooking it makes me smile:)
First stop Lola.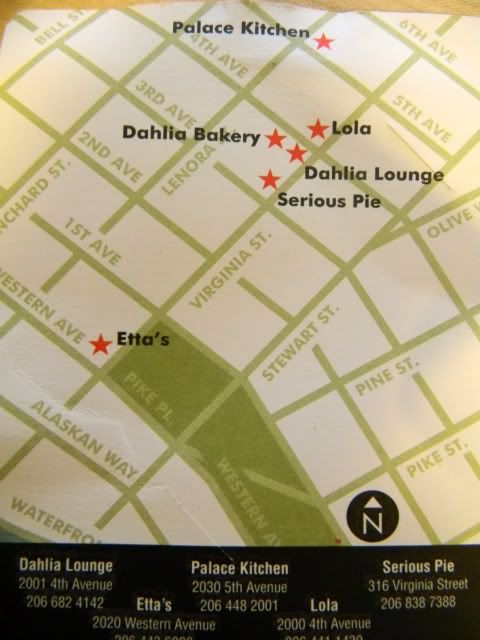 This little map shows 5 of Tom Douglas' establishments. He currently owns 7 different eateries and they say by the end of the year he will own 11. He is amazing...his whole idea or vision is to take regular food, or local food and put a spin on it. For example the restaurant we went to Lola. Lola is a Greek restaurant with a modern feel, using hints of Mediterranean, and South African food traditions. The difference is they use all ingredients from the Pacific NW. This gives Tom Douglas an amazing niche in the community, organizing himself with local growers and purveyors to support the local food scene.
OK, OK what did we eat here? We had their homemade pitas(yum, yum, yum) with three different spreads-Tzatziki~cucumber yogurt,Cauliflower~anchovy(my favorite)and Red pepper~harissa. This was a delicious beginning to the tour.
The environment at this restaurant was really nice. It had a really cozy, home feel.
Next Up, Frontier Room.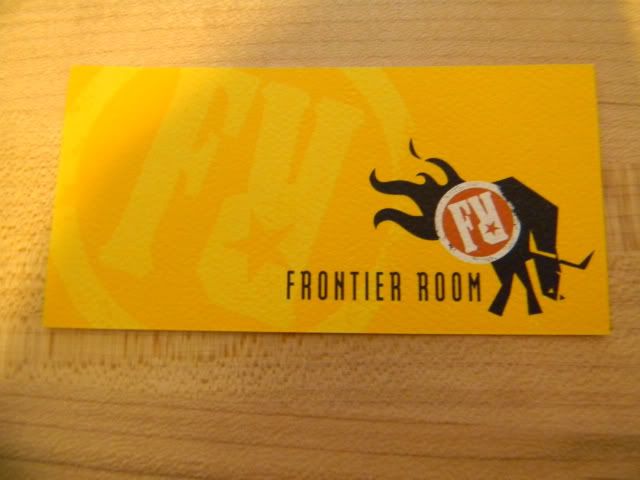 This place was great. It was previously a dive bar,but has now been turned into a restaurant by day and nightclub by night. We were greeted by a very nice server at the door and seated at a large wood planked table. They started by handing everyone a clean crisp bar towel(our napkin). This restaurant is also locally owned and is primarily a BBQ joint. BBQ in Seattle that is traditionally slow cooked for 20 hours,unheard of. This would be a great place to go with kids. I am sure that food on the floor or less than perfect behavior would not be frowned upon here.
They brought us slow roasted pulled pork sliders here. First let me say they were amazing, this was Brian's favorite taste. They served it dry rub style, topped with coleslaw, which is my personal preference. This way you can really enjoy the tenderness and flavor of the meat itself. They did serve it with a homemade BBQ sauce on the side along with a homemade chili infused vinegar(I want this on everything, I will be making some soon).
The environment was one that I could see myself enjoying with a group of friends on any given evening enjoying each others company.
A little way down the block we found Pinxto. I don't have a card but
here's
their website.
Pinxto is a modern Spanish tapas bar. Interesting tidbit about Pinxto is that they do not have any freezers on their premises. This means they buy everything fresh everyday. Amazing!! All of their food is made at the bar their is no formal kitchen int his restaurant. They make it all to order fresh, just for you!! This is rare and amazing all wrapped into one. All of their beverages are also handcrafted, and created for their restaurant by their bartender. We were told event he design of their space is authentic to a traditional tapas bar. It was long skinny story front that seemed cozy and intimate.
They served us freshly made Spanish meatballs, and goat cheese filled bacon wrapped dates with a glass of their house-made sangria. Holy Capitolie, these bacon wrapped dates for so perfectly made, the date was soft and supple and sweet, with the subtle tang of the goat cheese, wrapped completely in the salty bacon.....yum!
This would be a great place for happy hour with friends. Which I heard is 1/2 off all menu items 4-6pm and then from 10-close.
The next place we stopped was one I was most excited about.
Shiro
!
Shiro is an authentic Sushi restaurant on 2nd avenue. Some say that Shiro is the best sushi chef in the world, most agree that he is the best sushi chef in America. Shiro was actually born in Japan and started working in Sushi restaurants as a young boy. Now sushi chefs are extremely particular and view all of their dishes as art. I have been told to become an apprentice you aren't even allowed to touch the rice for years. This is no easy task. Shiro still does the shopping himself for his restaurants, this is incredible. All of their sushi is made the traditional way most of their meats have been cured and smoked. You will not find chopsticks or soy sauce or wasabi on their tables, much like you will not find A-1 at a great steak house.
They start your experience off with hot damp towels to clean your hands. From that point forward its finger food. They do serve the sushi with pickled ginger but that is souly for palate cleansing.
We were given to pieces of sashimi style sushi. One being a tuna sashimi served with a smear of wasabi underneath the piece of fish, it was so incredible fresh. Next was a sampling of Unagi(eel) it had been BBQ'ed. Now I must say in the past Unagi and I are not friends,however this is not the type of environment to politely say not thank you, I must say I am glad I didn't, the texture and flavor were perfect. I might now be an Unagi believer;)
The environment is nothing fancy, Shiro says he wants the feel to be that of a traditional sushi house. Modest surrounds to draw focus to the food, which was beautiful.
The next stop was my favorite on the tour. Branzino.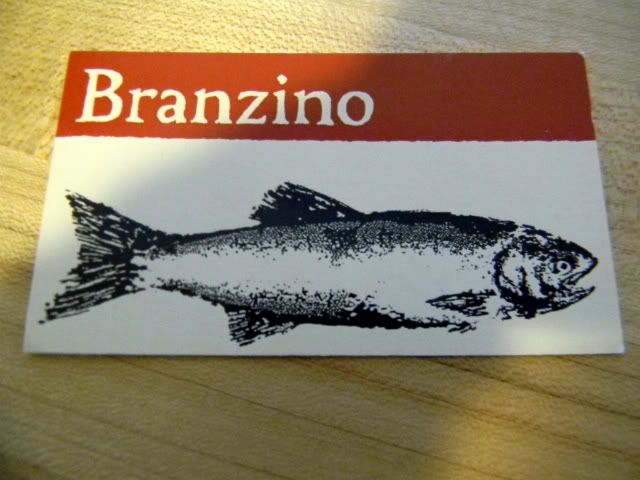 From the moment we walked in I knew that it was fabulous. We were first introduced to the Chef and his Sous, who was meticulously cleaning up a large piece of meat. They were sharing a tiny prep space to work on that nights offerings. The other thing that was surprising to me is that these guys were noticeably young and you could tell they had the respect of their entire staff. While talking to them over their station, who walks in, Peter Lamb himself. I was starstruck. I have read about all of this guys previous accomplishments, such as Il Bistro and Queen City Grill. He has been marked a genius.
We were seated by the co-owner himself,who we were told is extremely hands on, this is how restaurants succeed, owner operated. Anyway he sat us in a fabulous corner table and quickly served us Pappardelle, which is a dish made with a thick and silky homemade noodle, topped with a house made Bolgnese sauce, and finished with freshly shaved salty Parmesan. YUM! As I said before I could bathe in this sauce. IT smelled and tasted like heaven. You might be interested to know they make all of their pasta here except for the fettuccine, because fettuccine needs to be firmer, homemade just isn't able to hold up to the sauce.
I think I have said this already but I loved this place, we will be going back. Perfect venue for a romantic date or a celebratory event.
Last was naturally dessert. We travelled down a couple of blocks to
Macrina Bakery
. Macrina Bakery has two locations one in Belltown and a newly opened location on Queen Anne. The woman who opened Macrina has a wonderful story. It was started by a woman named Lesli Mackie who started her based on the love of the product she made, bread. Now she is making bread for more than 200 grocery type establishments as well as her two locations. She is till herself involved in the making of her product.
Here we enjoyed a nearly flourless brownie that I had actually made a few times in the last week because she had made her recipe public in Bon Appetite, a magazine I subscribe to. None-the-less hers was way better, she makes them thicker than suggested int he magazine, maybe that was her best kept secret. Anyway they served it with a hot lovely cup of coffee. I saw all sorts of muffins and scones as well on the menu. One of the other people in our group was celebrating a birthday and she was served a ginormous delicious looking Devils Food cupcake.
The environment was really cute, perfect glass case (a secret desire of mine), old school bakery. Everything is made fresh everyday with a passion for the bake goods she is making.
There was a common thread between all of these establishments and that was they were all making food they believed in with ingredients that became the dishes they were intended to become. It was not just food it was an experience to be had. I do not like the term foodie it gets under my skin. Foodies are people who like food. I would consider myself an ingredient lover. Because the best meals are comprised of the best ingredients, which are typically fresh, local and loved. All of these restaurants held these things of utmost importance. I love it!
So that brings us to the end of the tour. If you have any questions about the places we visited, drop me a line. Again I would totally recommend this tour to anyone it was a great way to spend an afternoon.