Mr. Husband and I have a standing breakfast date on Monday mornings after the kids go to school. It is something I look forward to. The only rule is we have to go someplace different every week.
Now I see how I have left this great opportunity for a blog segment and I am apologizing that I have left you wonderfuls out of the loop.
I mentioned the idea of doing a weekly review to Brian and he thought it was a great idea, so you won't be intruding.
So we are going to go back and document the places we have already been. And then we will move forward.
This week we went simple and had doughnuts and coffee. Although simple, I must say they were from Rocket Donuts in Bellingham. And if you are asking me they are the best in the West! They are light and fluffy and if you get something frosted it isn't overly sweet. The establishment is decorated with old sci-fi movie posters and the like. I promise the experience will be out of this world;)
Mr. Husband had an apple fritter, which is his favorite.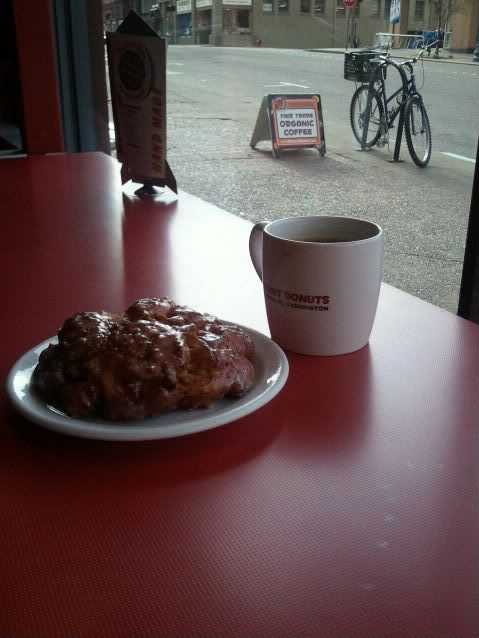 This is where I wish I would have taken my real camera out of the car. This is a photo from my phone.
The apple fritter was so nice. It was full of cinnamon, and the apples were of good size. It almost had the flavor of apple pie wrapped in a doughnut.
I had the maple bar because I think you can judge a place on the quality of their maple bar. It was so light and airy, with the perfectly sweet slathering of maple frosting.....yum!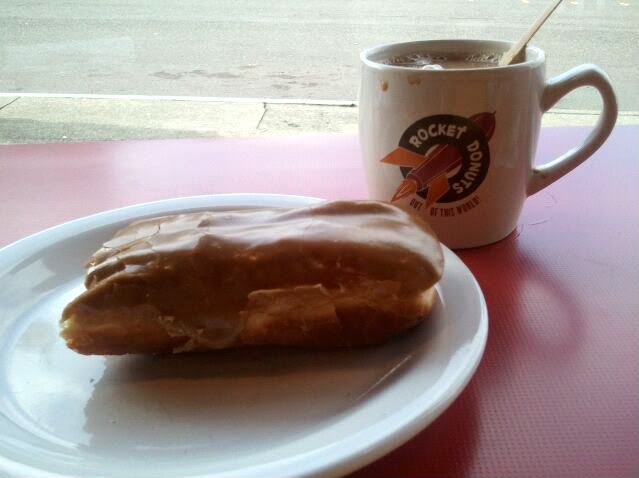 Rocket also serves wonderful organic free trade coffee in their own signature blend so make sure you get a cup if you go.
In the neighborhood you will find a row of wonderful antique stores, and although most of them aren't open on Mondays I have been in them before and they are all fun to browse through.
So make a date of it grab a doughnut and sit for a bit or take to go and browse around downtown for awhile:)
Public Service Pledge...From here on out I promise to bring my real camera in order to capture presentable pictures of the venue and the food:)