Its Monday and that means it was date morning and that means I have a great review for you of a great little breakfast spot. And I will tell you that Brians first impression comment was classic. Smells like Hippies in here:) Gotta love that man, I swear sometimes my delight is his fear, but his breakfast made up for it.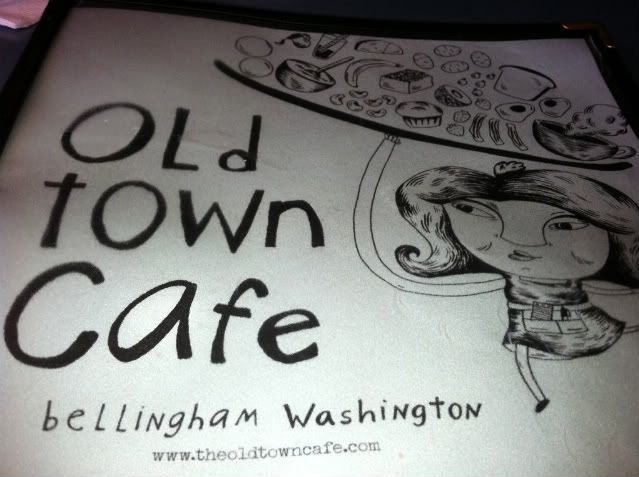 And this is where we went. If you read my last review on Rocket Donuts, it would be easy for you to find Old Town Cafe, they are on opposite ends of the same block.
This restaurant is great they make the same pledge to their customers as The Angry Blueberry and that is they try to use the freshest ingredients possible, also utilizing local ingredients whenever possible. This speaks to my heart because fresh food is good food, in my opinion. I really have a hard time with boxed food and restaurants that claim to make things home made but that really means they reheated something from Food Services of America. But I will save this whole viewpoint for another soapbox.
Something I really appreciated about this restaurant was the prices. Most menu items were under $10 in fact my breakfast was $6.75. Fabulous!!!
I ordered Huevos Rancheros. I have ordered this dish many times in the past and let me tell you it can go all wrong so quickly. In my opinion this menu items success is determined by the sauce. Now some places take the sauce in the direction of a mole, this is not my first choice, it is thick and almost rich...don't get me wrong I love mole just not on my eggs. The other way to do is to make a almost a chile based salsa, this is my favorite and that is how they do it up at Old Town Cafe. It was smokey and fresh tasting and wonderful. The perfect amount of heat. The eggs were cooked over easy the traditional style and then they were laid on top of two house made corn tortillas. On the side were black beans that they also prepare in house. I loved this dish, it was the best breakfast I have had in a while!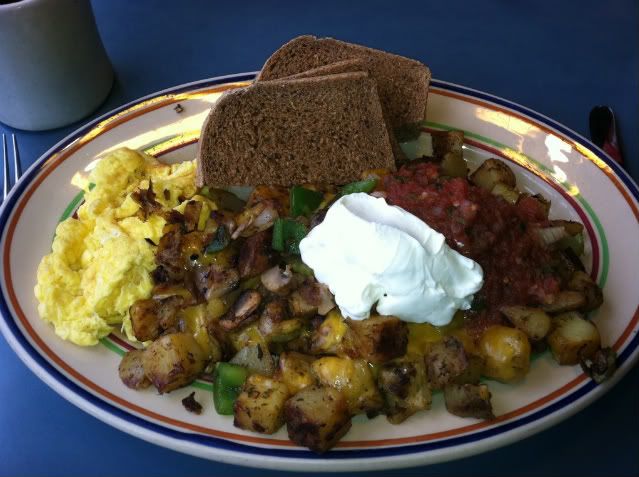 Mr. Husband ordered the Farmers Skillet Deluxe, for $9.25, if you skip the eggs and toast you can get the dish for $6.50. The portion on this dish was generous to say the least, Brian took have of it home and ate it for lunch. The potatoes in this dish were tastefully seasoned with fresh herbs, I tasted fresh dill even when I sampled. They use Great Harvest Bread at their establishment which I thought was interesting seeing as Avenue Bread has become the mainstream. However Brian got a Rye Blend Bread for the toast and it was awesome.
We ordered their coffee to drink and it was a little on the strong side(even for Brian) but good none the less. I also like that they have a self serve water station, just makes for less waiting and also gives that homey feeling.
I would totally recommend this place for a treat breakfast out with your kids, they even had a small play area/reading nook, for kids to play in while waiting for breakfast. The roomy booths also leave plenty of space for wiggling. And all of the items on the kids menu are under $4, actually most are under $3.
I would go back I will go back.
P.S. Iphones became available for employees, and since I was up for my nine month upgrade I traded up. So all of the pictures were taken with my iphone and if you ask me I am getting better at my photo journalism on these trips.