The hat that made me curse American Girl:) Just joking I love American Girl. But the movies oh man. The movies cause my girl to covet.
If you are a mom of a young girl and a watcher of the American Girl movies you may recall the movie about Chrissa. I loved the movie by the way, t was full of good reminders about bullies and how to be a good friend. Anywho all the girls had these hats. Knit hats with a hole for the ponytail to come out the top. Grace wanted one immediately and although she does not get everything she wants, I was secretly coveting these sweet little hats as well. So I set out on a mission and found a pattern. Next stop was the Rah because I had never knitted a hat before, and well she is kind of a master at it. I started the project while at cabin fever and Sarah helped me finish it last night. It pretty much laid in a bag for a week waiting for me to gain the courage to plow forward. Knitting on the round was one thing but when we had to switch to double pointed needles I was sort of intimidated.
So I must add one last time with a lot of patience from the Rahster and some perseverance on my side the hat turned out adorable.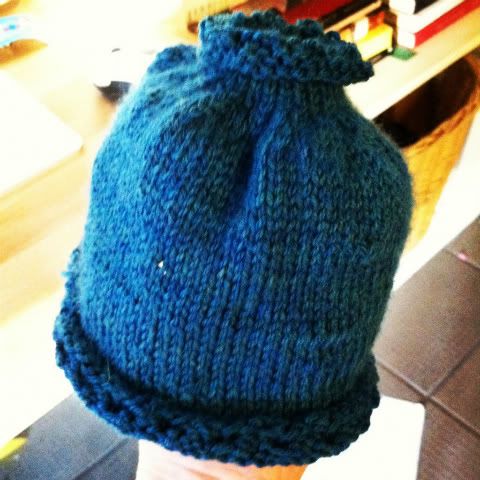 Unfortunately I forgot how large my children's heads are. So now I have a hat that is looking for a smaller head to wear it. Let me know if you are interested.
Off to knit another one:)