I don't have pictures for any of the mentioned items but to satisfy my friend the farmer I am including one that I took on the way to school the other day.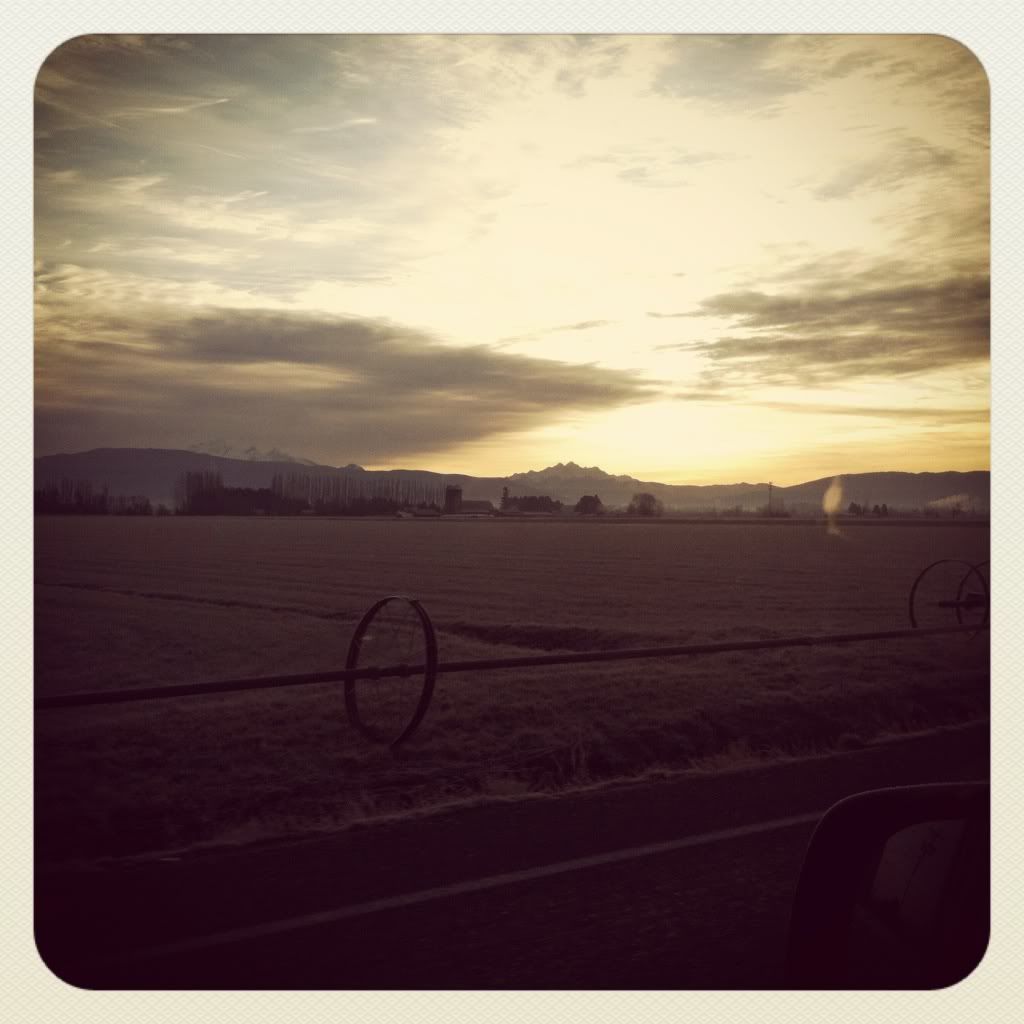 Numero Uno - That we spent endless hours and cash on new siding. In previous windstorms you could hear the old siding being torn off and thrown across the yard. Not any more the Hardi Plank is totally hardy. This improvement also cut down on the drafts.
Numero Dos - That we got our kids ipod shuffles for their birthdays. Currently I can hear Grace singing very loudly I am a Friend of God while Elliot is making guitar noises and singing Walk This Way. Yep. It's pretty adorable and really funny.
Number Three - That my husband loves my chickens. He installed a heat lamp for them in the dead cold today so they wouldn't freeze to death. Oh life on the farm;)
Quatro - That Brian didn't have to drive to a two day conference in Seattle this morning. The thought of him driving the Mitsubishi in this is terrifying I am not going to lie:)
Cinco - Elliot slept through the night last night. Although I am not counting on the continuation of the trend I am thankful for the tiny bit of sleep. Thanks for all of your prayers they are felt! We had a test yesterday morning to narrow down some possibilities of what may be causing the problem.
Number Six - The city finally called and they will be covering the total repair bill for my van after they hit it with their snow plow. Three cheers for the van she's had a rough couple of days.
Seven - That I have enough laundry to keep the laundry room warm so the pipes don't freeze. If you have any that needs doing fell free to drop it by I will probably run out in an hour or two. Yes we live in an almost 110 year old house it is a complete labor of love to continue living here sometimes:) But its our house and we love it.
Ocho - That I have a warm house and plenty of food to last how ever long we are stuck inside. A hubby that is able to work from home. And two sweet kids that are plenty of entertainment.
Hope you are surviving the cold. Keep warm and drink a cup of cocoa for me:)