Last week we hosted a get together for Brian's employees here at our home. I was nervous but not for the reasons you may think. You see Brian's employees are made up of a group of interesting folks with all different backgrounds which makes for a very interesting time. Not a lot of common ground there for me. Anywho that is beside the point....I was determined to have a nice evening and make some great food.
One of the guests was a vegetarian or as she puts it a carbatarian as in she mostly eats carbs, I am sure you know how I feel about this. Also the group is not made up of people with a large tolerance for new or strange foods, so that narrowed down the options quite drastically. So I Brian decided on Lasagna...I make the best lasagna just ask me:) It is actually one of the first recipes I ever learned how to make by heart. Both of my grandmother's taught me their own versions and then I comprised the two to make my own recipe. Over the years I have changed the recipe as I learn more and it just keeps getting better in my opinion...I am also quite humble it appears:) So I made a Sausage and Spinach Lasagna and a Mushroom and Spinach Lasagna. Both had homemade sauce. I also made a nice big green salad with a homemade mustard and pesto dressing. The vegetarian said she hated mushrooms but loved the lasagna...winning. I love changing people's minds! For dessert I made a Chocolate Crazy Cake again my Grandma's recipe with a Peanut Butter Buttercream (my own artistic license). I will share the recipe it is incredibly easy.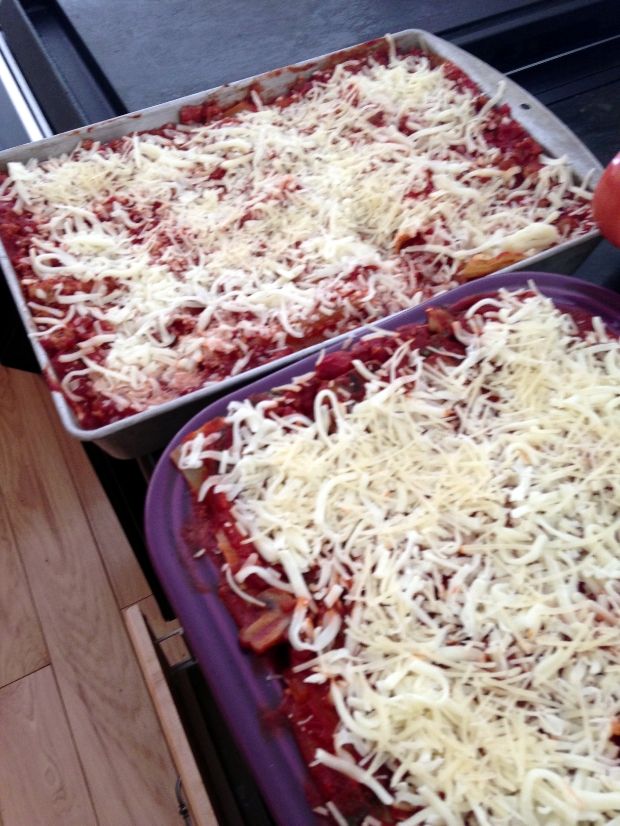 And here is the cake. I topped it with cocoa powder. And Chocolate Jimmies.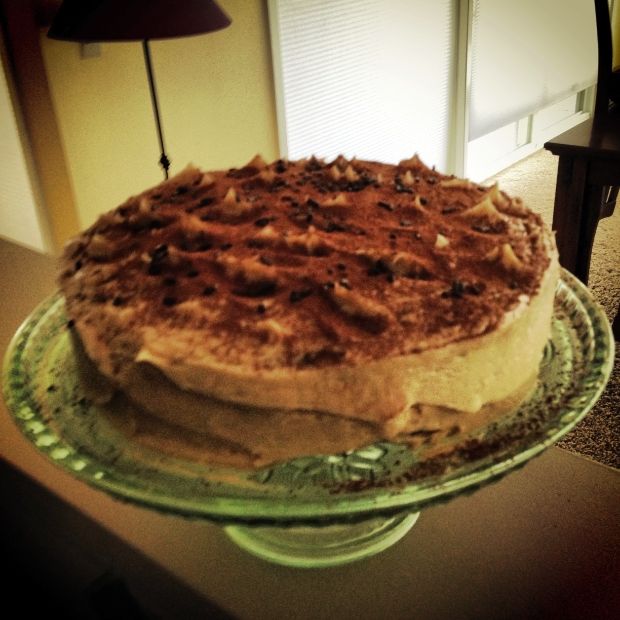 And we had a little bar. The only reason I share this is to let you know that when you are hosting randomly don't be afraid to serve boxed wine. If you read wine reviews at all boxed wines have actually come a long way as far as quality is concerned and you can get a lot of bang for your buck. I have become quite fond of Target's offerings but there a lot of great ones out there. I sent my sister this photo with the caption...Box Wine Can Be Classy? I also used those great little trays to set it all up. I will have to take a better photo of them. My MomL (translation MIL) got them for me for Christmas this year. I love them.
And so we hosted and everyone had a good time. One of the wives told their husband that I wasn't stuck up and that I seemed down to earth.....hmmmmm, well that's good to hear. I find being the bosses wife to be difficult, you have to have a mighty big filter........
My biggest tip when hosting when unsure of your guests is to keep it simple. Stick with something that is comfortable for you, those people don't know you have made lasagna about 6 million times they will feel special because you took the time. Save your new dishes for those you hold most dear...they are worth the time and will probably appreciate it more. Also new dishes sometimes bring stress and worry and that isn't what you want going into a dinner party. So keep it simple and have fun.
And now for the recipe.
Crazy Cake
1 1/2 Cups Flour
1 Cup Sugar
6-8 Tablespoons of cocoa I usually use 8 but my grandma recommends less...I like it a bit darker
1 tsp of baking soda
1/2 tsp salt
1 Cup of Cold Water
1/3 cup oil...I use olive oil but vegetable or coconut is fine too
1 Tblsp of white vinegar
1 tsp. vanilla
Prepare 2- 8 inch round pans...greased and I like to line the bottom of my pans with parchment. You can also make this in 1 square pan and just serve it frosted in the pan for a more casual presentation.
Oven 350 degrees
In a large bowl sift together the dry ingredients.
In a separate bowl whisk together the wet ingredients.
Combine the wet with the dry and stir together until combined.
Divide between the pans.
Place in the oven for 20-25 minutes.
Cool on wire racks...pop out of the pan and frost those babies:)
You could really frost this with whatever frosting you like. My Grandma's signature touch is boiled aka 7 minute frosting which is near and dear to me but I chose a more decadent approach this time.
Peanut Butter Buttercream
6 Tablespoons of butter
1/2 Cup of Crunchy or Creamy Peanut Butter
2 1/2 Cups of Powdered Sugar
1/2 Cup Cream
1 tsp vanilla
Cream the butter and the peanut butter together with a mixer.
Slowly add the powdered sugar and the cream.
Beat for 2 or 3 minutes until creamy and delicious.
Add the vanilla.
Once incorporated spread generously over your cake and enjoy.
-This recipe made a bit much for this particular cake and so we kept the extra in the fridge and made another treat with it. The frosting should seriously be illegal and the cake comes out tasting like a peanut butter cup.
And now you have a great, delicious and simple cake. Did you notice there isn't any eggs or butter in the recipe...its legit.
I am feeling completely uninspired to write lately so you may just get food for awhile.