I have so much good. So many blessings. And even though I shared my heart the other day, with complete honesty and openness...I just wanted to make sure y'all know that I am 100% thankful for my life! All parts of it actually,even the bad, even the ugly, even the uncomfortable.
This week so far I have experienced so much good. Y'all have I ever told you I have the best friends in this whole big fat world? Well now you know. They come in all shapes and sizes....with all different backgrounds, all in different stages in their lives and I love each of them for who and what they are! I have had phone calls and texts and emails and love showered over me already this week and I should tell you it is a pretty constant shower.....pretty much its a torrential rain storm and I am the happy recipient.
So I've had some encouragement. I had a couple of really good phone hash-outs to form a plan to get me back on track. Accountability and a swift kick in the butt is what I needed desperately and I had some great friends give me just that.
So the plan involves a few things...
#1 - Read a proverb and a psalm every morning. I've been struggling with staying in my Bible in the last week and this routine will help me.
Dos - Take some time for myself and leave the guilt behind. I am honestly with my children 24/7 and I am a firm believer in mommy time away...its good for everyone.
Number 3 - I need to make the gym a priority I feel guilty when I go because it is usually midday or in the morning and then I am away form our house and my kids are home. The gym is my anti-drug and it helps my sanity immensely In fact physical fitness is a proven benefit for mental health and that doesn't just come from the book "o" Jessica, its been proven.
Quatro - Find some friends here. I am a social being, I love people......and so I am making an effort. I am meeting some moms from the homeschool tomorrow night for coffee and I am hosting a Valentines Party for some moms and kids next week.
Five - Assert my gifts and talents. I miss using my gifts. I miss cooking for others, sharing my home, blessing folks with food and running my business. I can still do all of these things it is just going to take a bit of effort on my part.
And so you have it. I am making a pledge to be intentional in making my days better. As I have said before sometimes you have to look within if things don't seem to be going your way.
And so each day starts with God and each day will end with a thankful heart.
Today I started my day with the gym and intentionally prayed for my fulfillment, praying that God alone would deliver me the goods I needed to smile, to feel light, to love my days instead of wishing for bedtime.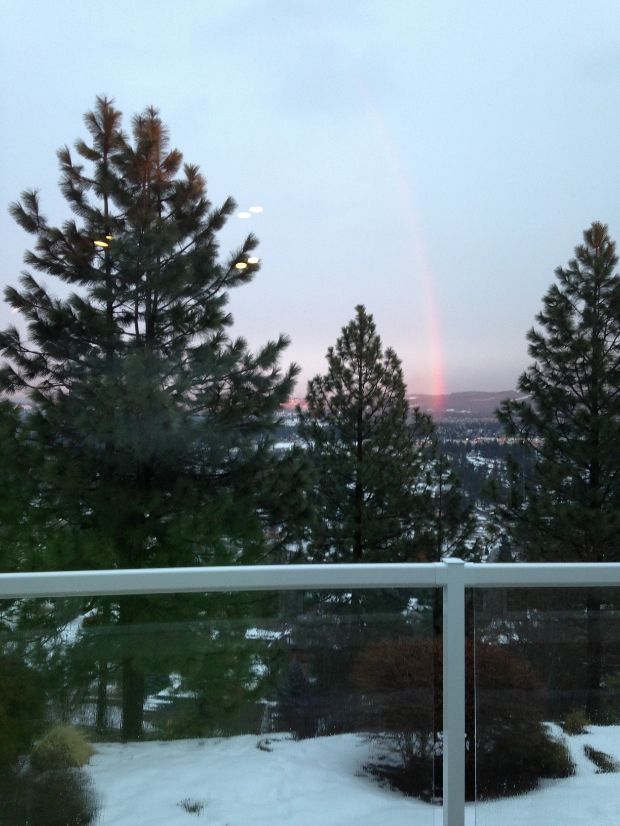 Look what came after the rain the other day. Don't think for a moment I didn't take time to apply the knowledge I have within me concerning that rainbow:)