I was the crabbiest mom on the planet this morning. Sometimes the lack of sleep results in me feeling sorry for myself, which results in me being impatient and lacking in the subject of grace. its just the way it is. And when caught in the moment I forget that the cause is the sleep issue not the little people(or the big man) around me. Once alone in the house again I am quickly reminded of the cause, realizing I still feel the same once the morning chaos is gone. Crabby, tired, confused, sad and the like. They say depression is a result of sleep deprivation...although I am not sure that I am full on depressed, I will admit to moments of it. I will admit that I am not always at my best in the morning especially lately and it is something I find myself apologizing for often.
While my children were at school today I took some time with a good friend, and then came home to reflect on the morning for what it was and what I wish it would have been. I am human I realize and I also realize the danger that comes with mommy guilt, so mistakes and falling short are something that I am comfortable with. However I do know that this lack of sleep thing could be part of my reality and so I need to find a way to buck up and deal.
I bet you are hoping I have some sort of answer or some wise thing I have come up with in all of this. Sorry to disappoint, but I don't. I just know that I need to cleave more to my Father from the moments my toes it the floor in the morning. If I have learned anything through all of this it is that God has everything in the palm of his hand and He orchestrates everything perfectly even if I think otherwise. And in knowing these two things I need to be patient in my waiting, instead of anxious. I need to rest in knowing that He is always with me even if I haven't had enough sleep. And yes even though this may be the most non-comforting reminder, He never gives me more than I can handle...sad but true.
I did set out to make the evening better today. My love language very often is food. Mostly because that is the gift God has given me in which to create something that not only I love but i love giving to others. My kids favorite dinner is breakfast....this never means the same thing. Sometimes its waffles, sometimes its pancakes, sometimes its a feast of eggs and bacon and toast but tonight we had Peanut Butter Crepes. With the crepes came yogurt and granola, and bananas. The little cherubs were thrilled. We paired dinner with a dance party and the world was a much better place. I stuck to what I knew, I stuck to where my heart led me and that was to be myself to let the rest fall to the wayside. There were about a million other things I could have been doing instead of dancing around the kitchen like a crazy person but it was where I needed to be right then. I can find myself in this time I just lose her occasionally. It just takes a little work:)
In more happy news Grace and I made cupcakes yesterday. We were supposed to make them last week but appointements for the E Man took up most of the week. That being said the cupcakes were put to the wayside.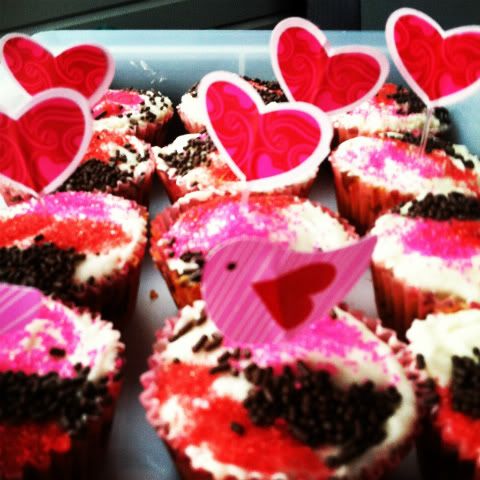 Buttercream frosting, house made of course with lots of sprinkles. Grace delivered them to each of the neighbors. Good thing:)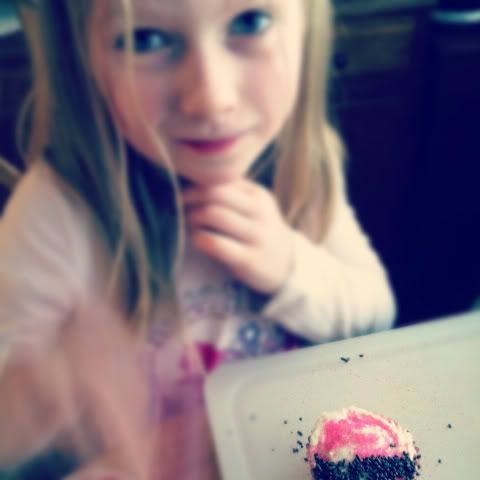 My husband encouraged me to go shopping for a washing machine. Umm yeah I jumped right on it. Ours started dying a slow death about two years ago. May it Rest In Peace!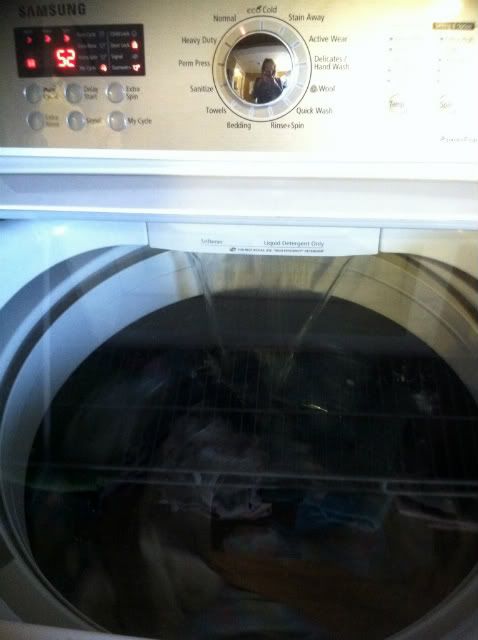 This baby is huge and it sings me a song when its finished washing. Talk about service with a smile:)
The Joshy man came to visit us this weekend....did you know he is 10 months old now? Where does time go?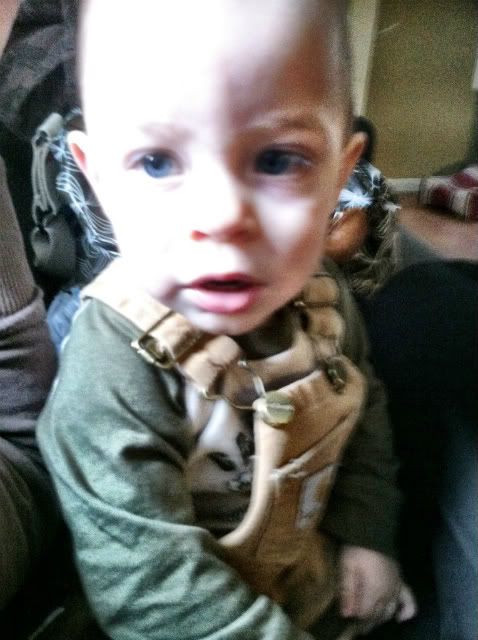 He's still a big fan of his Auntie though, just ask him he'll tell you. He's newest tricks include kisses, snake noises and well just plain being cute. Don't worry we are still over the moon for the Josherwoggie in the jager house!