With the big ol' day of love coming tomorrow I thought maybe some of you could use a romantic meal idea. Sometimes when I feel like I need a date with the hubdub I will make a dinner for the pair of us after the kids are in bed. I will go all out and make something extra special that is complete with all the courses and a bottle of wine. These "dates" are some of my favorite. This year we will be celebrating Valentines Day with Elliot at the sleep center.
Back to the meal. Men like meat lets be honest. Women like sweets and I know many of us could skip the dinner and go right to the dessert. This meal has is it all. And for the first time ever I will share my short rib recipe. Its solid gold....and a house favorite along with a client favorite. It never disappoints. Lots of people are scared to make this cut of meat because if done wrong the meat is very tough to the point of being inedible . But never fear if you follow my fool proof method you will be just fine.
I tried to take some pics for you this time too, so the post won't be too boring.
Jessicas nearly famous in certain crowds short ribs.
my recipe cooks for 4-6 but the leftovers are phenomenal so make the whole recipe even for 2
5lbs bone in short ribs (again for a whole gaggle of people I use boneless)
Kosher salt and pepper
2 tablespoons of veg oil (higher temp threshold)
3-4 slice of bacon....its up to you
1 large onion
12 cloves of garlic
2 cups of red wine or beef stock or chicken stock
1 28 o can of plum tomatoes
hand full of fresh thyme and rosemary still on stock
2 bay leaves
Fresh sage if you have it coarsely chopped maybe about 1/4 cup
You are going to need a dutch oven or a heavy bottom soup pot.
Add oil and get that pot screaming hot. Salt and pepper those ribs and work in batches to brown both sides of your ribs. Don't worry about the brown bits that are forming in the bottom of your pan thats just all sorts of flavor you are creating. Once brown remove the ribs and put them on a plate.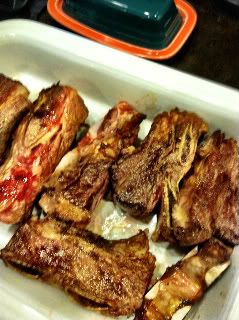 Reduce heat to medium and add bacon. Cook stirring often until it is almost crisp. Add onions and garlic and cook until softened. Make sure you scrape those brown bits up at this point to get them incorporated into the onions. Stir in you liquid at this point wether its wine or stock as well as the tomatoes. Salt and pepper at this point. Return the ribs to the pot and bring it back up to a simmer.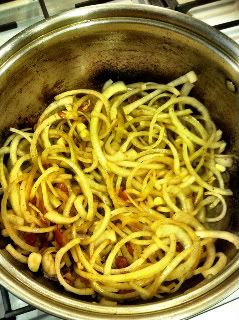 Now you are going to make something fancy but don not be afraid. You are going to make your very own bouquet garni. Yep you are. Just get some of that twine I talked about in the chicken post and make a simple bouquet out of your thyme and rosemary. Toss it in the pot. Add the sage and bay leaves at this time as well.
See the bouquet.
Now you are going to perform a braise. Reduce the heat and put on a lid. You want the temperature to be causing a very gentle simmer. I don't want you to open the pot until those ribs have been cooking for 2 1/2 -3 hours. No matter how delicious it smells have some self control people. After the time has passed you may crack open the pot and stick a fork in the meat to determine if they are done. Meat should be tender and falling off the bone. If it is you are in luck its time to eat. If its not quite there give it another 3o minutes.
Now you are going to make a sauce out of that delicious stuff remaining in in the pot. Remove ribs and put on platter cover with foil. Remove your bouquet and discard it. Bring the sauce to a boil for about 10 minutes. Add salt and pepper to taste, spoon that delicious sauce over your ribs and enjoy. Your husband will worship the ground you walk on...I'm not kidding.
....Now what to serve with it. I like to pair this with some delicious mashed potatoes....but oven roasted would work as well. The other night I served it with garlic and parm mashed potatoes and oven roasted asparagus and carrots. IT was over the top fabulous.
Now for dessert.
No Bake Boston Cream "cheater pie".
This is an easy fool-prrof way to make boston cream pie and you still get to reep all of the benefits in texture and flavor. If you are my MIL I made this the other night and thought of you while I ate it...it is right up you alley. The end product resembles Tiramasu in all of the right ways.
Now the nerve racking part is you are going to make home made custard. Do not let me catch you making pudding from a box people....I try not to judge and I'm not but I do have a bit of soap box reserved just for packaged foods. You can do this and I am going to help you and give you some tips. The whisk and a small sifter is very handy for this recipe.
One Box Graham Crackers
Custard.
3 TBLSP. corn starch
2 Eggs
3 egg yolks
5 TBLSP butter
3/4 cup of sugar
1/2 tsp salt
1 quart of 1/2 and 1/2
2 tsp vanilla
Chocolate Frosting
1/2 stick butter
1/4 cup cocoa powder
1/4 cup milk
2 cups powdered sugar
1 tsp vanilla
Cover the bottom of 9x13 with graham crackers.
Make the custard and heres how....
-Place cornstarch in a small bowl. In a separate bowl whisk together the eggs and the yolks.
-Melt bitter over medium heat in a heavy saucepan. Stir in sugar. Add salt and 1/2 and 1/2. Heat until just before it boils. When the mixture is at this point pull off heat.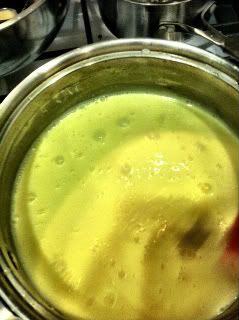 -Ladle a bit of the mixture into the cornstarch. Whisk it until it is smooth add more of the liquid if needed. Pour cornstarch mix into the eggs. Whisk quickly until combined. Do not be worried about scrambled eggs this will only make your worries come to life.
-Pour the egg mixture into the pot and return to medium heat. Whisk continuously until the liquid becomes thick and starts to bubble. This will take 5 or so minutes. Turn off the heat and add the vanilla.
You Did It!
Spread 1/3 of the custard over the graham crackers. Add another layer of graham crackers. repeat two more times. ...ending with the graham crackers.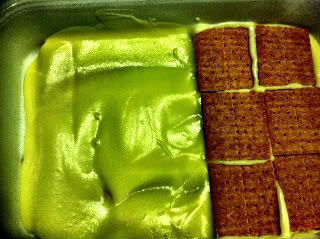 Now make the frosting.
Melt the butter and the cocoa powder in a small saucepan. Once melted whisk in milk. Remove from heat and beat in the powdered sugar using a hand mixer of putting all ingredients into stand mixer. WHen smooth add vanilla and pour all of the chocolate over your final layer of graham crackers.
Wrap pan tightly and put in fridge for 3-4 hours or even overnight. I thought the texture was even better the second day.
This recipe is full fat and full sugar I realize. The Jagers do not eat like this every night but we do allow treats and don't feel bad about them. Everything in moderation with healthy doses of exercise is the way to go in my opinion. And never make apologies for wanting to eat something that is yummy to you.
So theres your recipe for a romantic evening for two in your home. Don't forget the candles:)
Come back tomorrow to see the surprise date I got to go on on Saturday. I have the bestest husband in the whole world!