This is my 600th post woot woot.
Us four Jagers had a movie night this past Friday. It was so much fun. We even made home made pizza with whole wheat crust (my kids would rather Little Ceasars but they don't complain to much).
Grace made a giant "cozy spot" on the floor and we snuggled up and enjoyed the show.
I love these three more than anything.....I mean look at them!
Mr. Husband left for Disneyland this morning. He was awarded a special honor at work as well as a conference held in Disneyland by the Disney Institute. They are even putting him up in the Grand Californian. I scream no fair:) At the same time I couldn't be prouder. Only one other person was chosen from our district so it was a very large compliment. I am so thankful that my husband has a job where he can find joy and fulfillment. It has been and continues to be a blessing.
In other news we have decided that we are taking everything we need to Costa Rica in two backpacks. We will also check one bag that has our sunblock and liquid stuff in it.
So all of my things need to fit in this baby...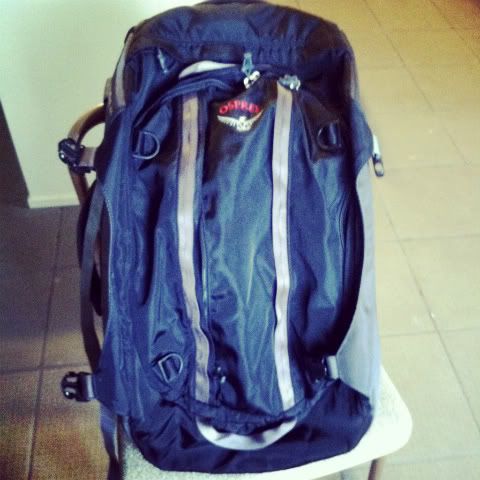 The brewer and his wife the infamous Rah leant them to us. They purchased them when they went to Europe for three weeks and these were the only bags they brought. If they could pack for three weeks in these I can surely pack for ten days in one. If you are related to me and have traveled with me before (aka Bubba, Krispis, Jaim or Mom) you can stop laughing now it is possible and I am up for the challenge:) And to catch the rest of you up I may be a tad bit of an over packer...its not a disease but it may be a hint at a not so hidden form of anxiety:) I hate to be without something I need. And if you forgot something awhile travelling with me I most likely have an extra. My Dad is the same way. When you vacation with him if something breaks he surely has what it takes to fix it....your flip flop blows out he has an extra pair probably in various sizes. Its just the way we roll. But for this trip I am vowing to travel light and only take what I absolutely need, it will be good therapy for me!
In other news Grace's class was in charge of putting a chapel service together for school. Today was the day for everyone to enjoy their hard work. If you aren't familiar with our schools practices, at Ebenezer on the last Wednesday of every month they hold a chapel service, each grade takes a turn throughout the year to plan, prepare and host it. I try to go to chapel every month simply because it is a great reminder to watch these kids innocent perceptions of their faith. I love it! It is also such a great opportunity for these students to participate in something that stretches them and teaches them about public speaking, and performance as well as them learning to speak openly about God in a public setting. Grace has been ecstatic about the service for over a week and all she talked about was a play they had put together. She informed me this morning that she was an actor and her part was a boy but it doesn't matter because its just pretend. She then went on to say she didn't want to be a narrator because she gets stage fright and that makes her voice small and squeakish:) I thought this was a profound realization and was proud of her for being joyful it what she was good at. Isn't it wonderful that God makes us all strong in our own right. If God had made us all willing speakers there would be no actors:) That is what Grace and I talked about this morning. And i was so thankful for the reminder once again that we are all made with our own purpose and strengths to complete it.
I didn't get a great picture so you will have to deal with what I got. The kids were pricelessly adorable. There are 11 in her class this year and they are all so sweet.
Grace has the hat on in the striped dress.
I just got a call that Elliot's medication came in at the pharmacy. Another praise would be for amazing medical benefits the prescription cost 60 cents:) So here's praying for a new normal, hopefully sleep will be upon us.
Thanks for hanging in here with me I k now what I write isn't always butterflies and rainbows. It has always been my goal to keep it real around here:) But don't think for a moment that I don't feel blessed in this life...It's everything I never knew I wanted and more!