First off I made this...and it fits:) Yay. Clarification its for Grace, she chose the yarn.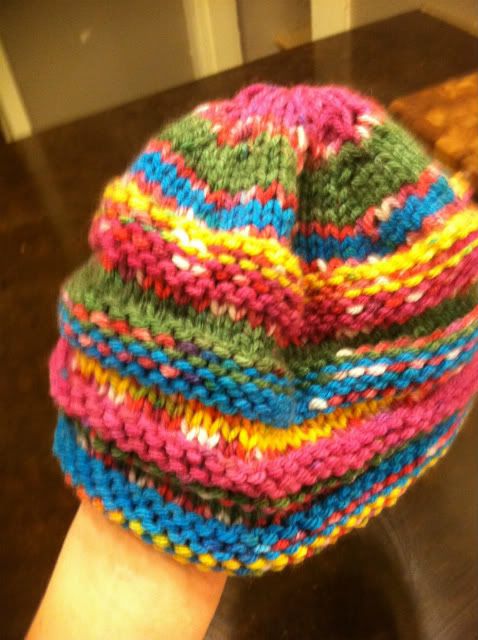 I'm now working on a cowl and a headband. In knitting fail news... the garden gnome hat won't quit staring at me...I feel kind of lost in fixing it though so I may just throw a dish towel over it and make it sit in the dark for awhile:) The knitting has proven to be good therapy...who would have thought.
The real reason for the post is to fill you in on news concerning Elliot. We were supposed to hear from the Dr. last night and well we didn't. So no news yet. I will post an update as soon as I have one. Elliot has been exhausted the last two days. This was something the Dr. was surprised we had not yet been experiencing and had chalked it up to a bonus of being marked with ADHD. So we pray hard that at least he will be able to make it though school and homework and after that its a free for all. Its a form of temporary normal around here I hope:)
We have currently started a few more house projects...new stairs, heat upstairs, and new walls in the stairwell and playroom. I am hoping and praying that I can get the hubdub to hold off on anymore demo until after vacation. We will see...I continue to be over the top thankful for a capable and handy husband who seems to somewhat enjoy the projects.
We are planning a surprise for the kids over mid winter break, we plan on keeping it a surprise. We really wanted to do something fun with them seeing as we will miss all of Spring Break.
Here is my random post for the week.....hopefully I will have something of substance to share tomorrow.