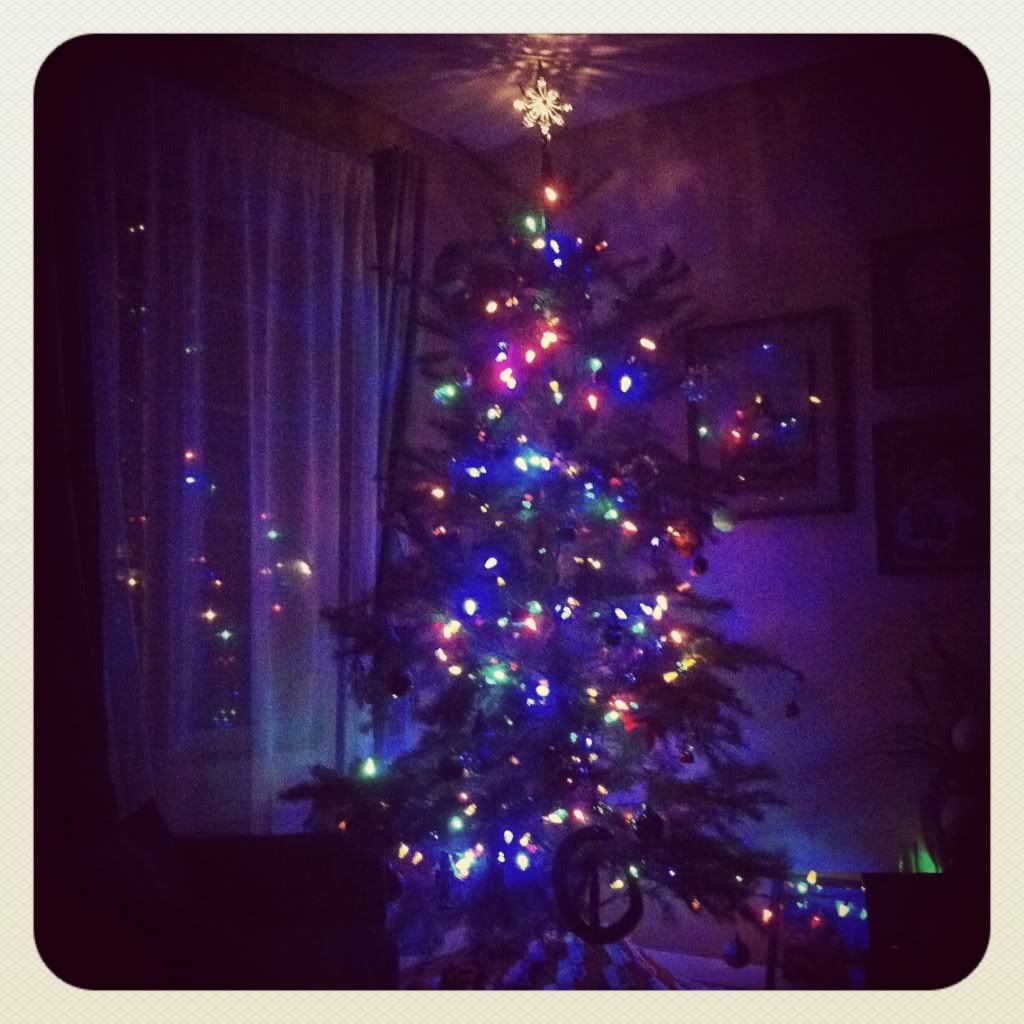 This is our Christmas tree this year. It probably isn't going to win any awards by decorating expert standards. I don't believe in having a themed tree, or a matchy match ornament tree...in my opinion our tree should represent our family and the love that we share. I think a tree should be covered in your blessings, it should be a spot of joy to remember why we celebrate Christmas. I believe in bright colored lights, handmade ornaments that were pricelessly put together by chubby fingers....ornaments that are covered in glue and glitter are my favorites. Ornaments adorned with the pictures of little cheeks of years past, I have to say my kids preschool ornaments are some of my prized pieces....sweet faces. I can still remember the pride in their eyes when they gave them to Brian and I. I love ornaments that have been dated from my husbands childhood, marked with B.J. by his grandma. I love ornaments I collected my first year living on my own in my little apartment on Queen Anne. None of them "match" yet they all fit together and remind me of Christmas' past. Each one holds a different memory.
We went and got our tree from the same farm we travel to in the foothills every year. I have been there with babies in front packs, toddlers that could barely walk let alone grasp the concept of picking a tree, little ones that look up the trees in wonder, and now with two kids that have their own opinions of what the perfect tree looks like to them. Grace thought she needed her own tree for her room this year(I did not fulfill her dream). Elliot attempted to cut down the tree himself again this year (he actually cut a bit of it this year). I love watching my husband carefully instruct him each year on the best technique when holding the saw, he is so patient, just wanting to see the little guy succeed. One of these years he will get it and I can't wait. These memories at the Christmas Tree farm are ones that stick with me from year to year. This year I traveld with a freshly ruptured ear drum(when my mom took our picture with the tree she said your face says I have a ruptured ear drum take the darn picture:). Upon arrival I pointed at a tree from the car got out looked it over and sure enough it was the perfect tree, that was the one we ended up with. Probably the quickest tree picking on record. I wanted a tall skinny tree this year and thats what I got....I love it.
Once again I am feeling the anxiety of festivities approaching. I like to be home for Christmas. I like to be with my little family. It is not to say I do not feel incredibly blessed by the large amount of family we are surrounded with. I just feel like sometimes the holidays start to feel like an obligation. Yep I said it. And I have bounced this feeling off of enough of my friends that I know I am not alone. The obligation to buy gifts, the obligation to not disappoint anyone and the obligation to fill each and every day of the two week window surrounding Christmas. Yep now you are calling me the grinch and asking yourself if I really just said all that. Yep I did. And I'm okay with it. I love Christmas...I love the true meaning. I however dislike the fatigue and let down afterwards. I also dislike the upheaval of normal it can bring. For the first 20 years of my life I experienced every divorced kids worst nightmare ping pong Christmas. I was shuffled here and there and everywhere. Experienced the arguments of who would "get us" when. And although there are some good memories they can all be found on the days I got to stay "home" on Christmas, in my jammies. The Christmas' when my grandparents came to us and we could sit and laugh at my grandpa and eat my grandmas cookies until we felt sick. These are the memories I want for my kids. Every year I think maybe we are getting closer to this. I want my kids to feel at home on Christmas. I want them to be able to focus on the simple reason for the season. I want them to feel at peace in it. And so this explains my precious statements above I hope. I want to enjoy and not feel obligated, not feel like i am hurting anyones feelings by being willing to say what is best for my own. I am strong proponent of bedtimes during the holiday season, and have found this makes me seem like a crazy person to others. I can tell you if my kids don't get sleep not only are they crabby but I am crabby and this is not an option for the holiday season. This does not encourage enjoyment.
I can only remember a handful of gifts from childhood this isn't because I didn't receive anything that was worth remembering, my mom is a great gift giver she knows exactly what to get each person. I think the reason I don't remember is because the time spent that was enjoyable is what really left an impression on me. This is what I want for our family. I want it to be about the time spent not the presents received, Brian and I have some plans up our sleeves to implement this more as the kids get older.
Praying that each of you will feel love, peace, joy and hope this Christmas. May it be a season of reflection for you as well as you think of your Christmas pasts. There are so many memories to glean aren't there.