We are home. We hit the ground running back into real life Sunday and it hasn't been as hard as I thought it would be. Our Costa Rican vacation was truly the greatest vacation I have ever been on. There were no mishaps, wish we could'ves or disappointments. Its was truly relaxing and enjoyable...every moment. I am truly grateful that my husband is not only that but he is also my best friend. He can make me laugh and laugh and he can make me smile. He is the greatest when it comes to just going with the flow. When we described our time to one of our buddies they replied sounds like true Jager fashion. And there is no other way to describe our time. Although we like to run around around like chickens with our heads cut off a lot of the time...we are actually truly laid back individuals we enjoy taking things as they come not worrying to much about the day ahead and focussing on the moments in front of us. This vacation was a great reminder of how we truly love to be. I didn't realize until I was on vacation how much I truly needed one. I can truly say I was more than a little burnt out in a lot of different areas. Didn't take more than 2 days to realize this. I spent much time in Costa Rica in prayer. Prayers of thanks and pleas for remembering how nice peacefulness feels. Busyness can become a severe burden, a burden much of the time of my own doing. But on to the good stuff. For ten days I lived in my bikini, I packed way more than I needed. Next time and yes there will most definitely be a next time, we will take one bag. I didn't wear make up for ten days:) I laid in the sun with my baby everyday and we talked about all the good stuff, shared lots of kisses, and marveled in the wonder of Gods creation. We saw 1 scorpion, had a close encounter with a lethal and aggressive snake, counted endless amounts of monkeys and iguanas, had innumerable geckos for roommates, lots of different birds, and plenty of other creatures. We lived on the sweet wonder of incredibly fresh fruit and vegetables. Avocados that spread on toast like butter, fruit you could smell through its skin and fish fresh from the sea. My tastebuds are lonely now:) We decided not to rent a car so we walked absolutely everywhere. The town we stayed in was incredibly rural. No cash machine, no real grocery to speak of, and no paved roads. It was awesome actually. We were never in a hurry to get anywhere and we shared lots of good conversation on the road. I am also quite sure we wouldn't have seen as much wildlife as we did if we had had a car. It was fun. It made us feel young, and carefree. We went zip lining, and on a SUP adventure. Both were super fun. We also went on a 6km hike each way to a dried up waterfall(40 M high). It was beautiful!! So onto the pictures. It may take a few days to share what I would like to. Its just the way it has to be.
This was our first day. We were at the only little soda that served "mexican food." Yep no tacos to be had in Costa Rica. What they had was much better. All of the food was fresh and lovely and perfectly seasoned. Also Tikos (Costa Ricans) do not like spicy food so nothing is in the least bit spicy. Even the salsa is more like a fresh salad. It was lovely...the food. This was also after we realized the decent tiny market was about 45 minutes one way from our house:)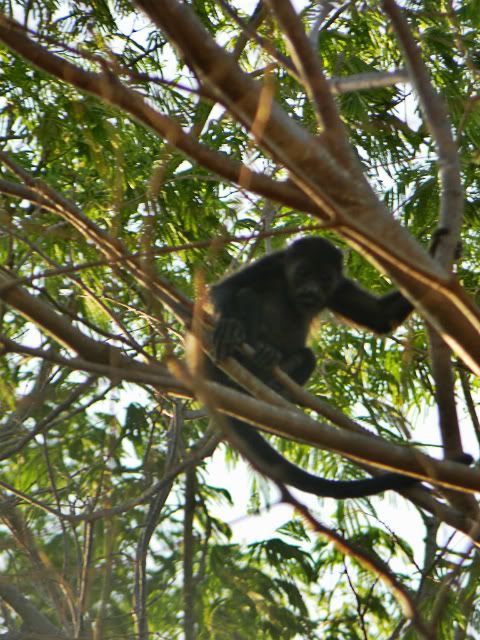 WE saw lots of monkeys..all of the howler variety. Their bark is worse than their bite. They move very slowly because of their slow moving digestive system so God gave them a lions growl to ward off predators. You can hear their growls from very far off distances. We have heard the worst they will do is poop on you if you get to close. They were so cute and their babies were so sweet. Amazing creatures!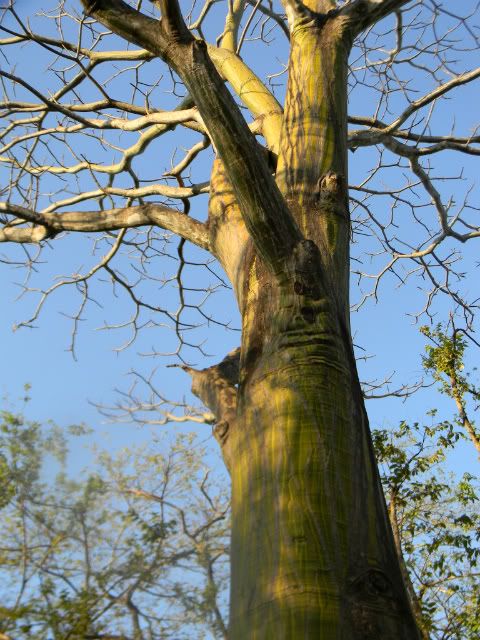 The trees were also amazing I am not sure what this one was called but I just loved the green lines that an up the sides as a sign of life that was waiting for the rainy season.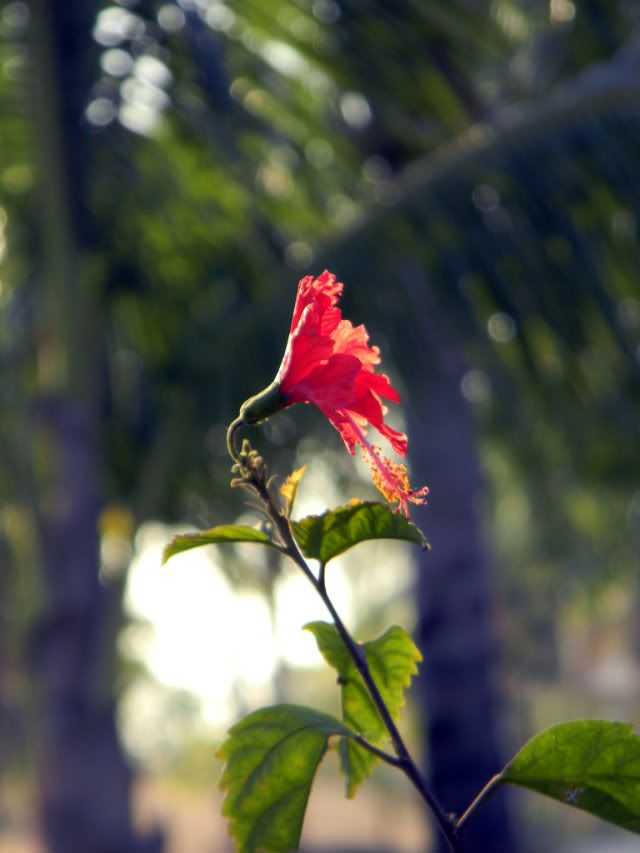 The flowers in our neighborhood were fluorescent in color. Julie you will have to tell me if this is a decent attempt at macro or not:) It hought of you when I took it.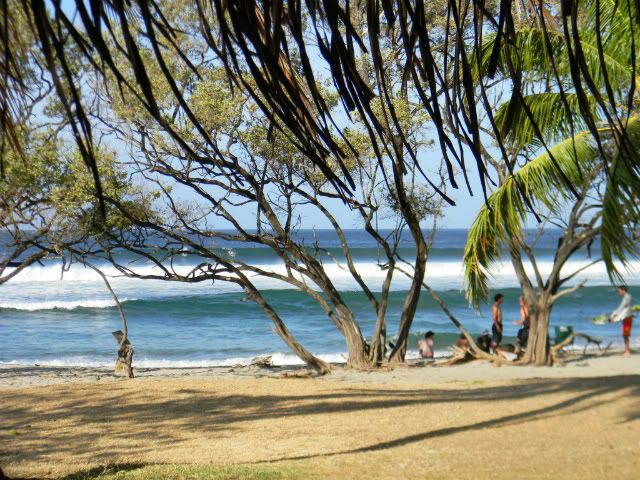 This was our view for breakfast the second day we were there. The restaurant really looked like something out of movie or something. Smack in the middle of the beach sat a palm hut with a restaurant under it. It was gorgeous. And this is who joined us for breakfast. Meet the Tiko version of a blue jay. They were everywhere.
And they were not shy I saw a lady donate an entire plantain pancake to one and he took it right out of her hand. Oh plantains......they were part of our diet in a big way. And they were one of the things i learned how to make properly while I was there. Bobs(Brians friend from Calvin) wife Claudia(a Nicaraguan native, she was born there and that is where they live) taught me how to make them authentically two different ways.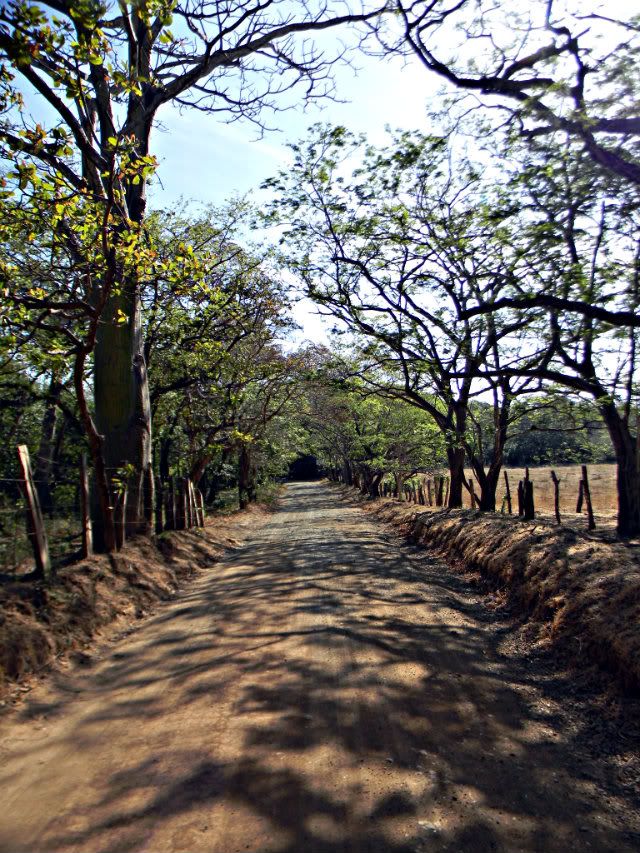 This was a typical road in Playa Negra....now you can see why we didn't mind walking everywhere. It was breathtaking. This was lunch Day 2.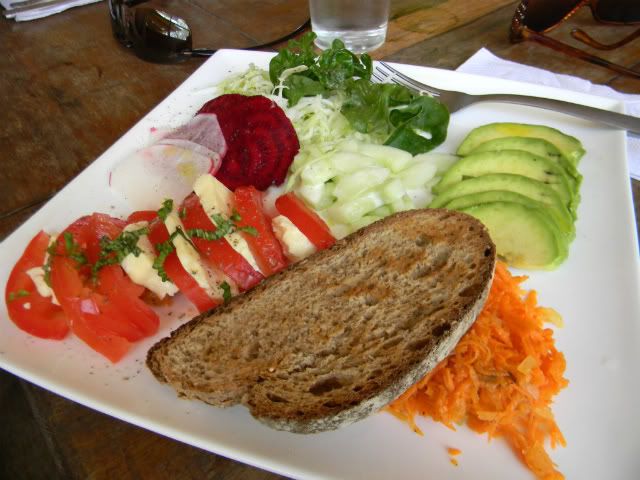 This may look like nothing special. I must tell you the flavor in this dish was nothing short of amazing. This meal was a start of a long lasting love affair with the restaurant where we ate it. We ate there often and lingered in every course. I had dessert at lunch and dinner every time. They made one thing for each meal, there was no menu. The place was actually a surf hostel and so we got to make some friends there as well that ate there daily as part of there room and board. Lunch was 5 dollars and Dinner was ten. Dessert was 2 dollars...and was made fresh and delicious and often on the fly. I was in food heaven. The owners were french (Pascal and Camille) and had moved to Costa Rica from St. Barts about 18 months ago. They became friends to us quickly and I traded pool time(Camille is 8 months pregnant) for cooking lessons. I am now a master of the most delicious rendition of banana flambé that I have ever had in my life.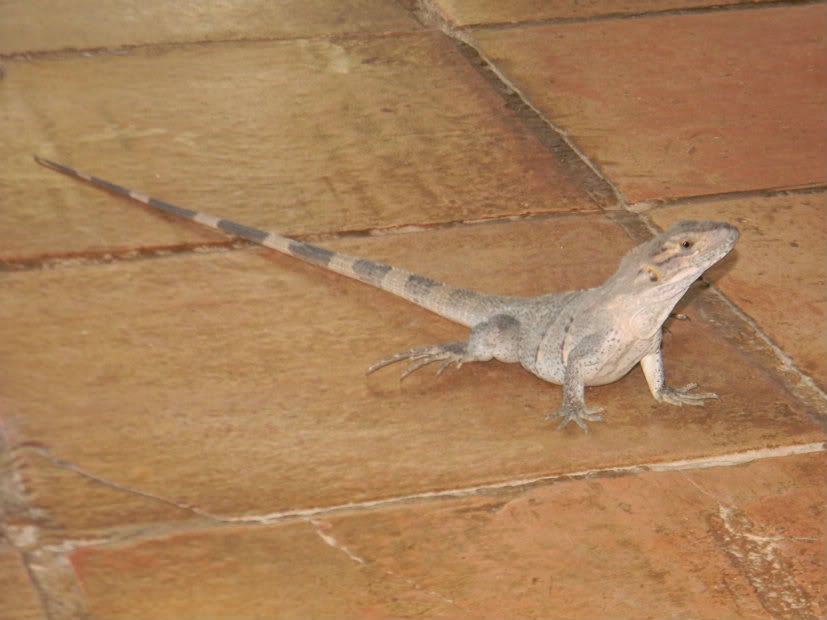 Iguanas everywhere. The beaches were amazing, clean, water as blue as blue can be. We spent a lot of time there. We learned about sunburns from the sun at the location so close to the equator on day 2 the hard way:( From there on out we were serious about the sunblock.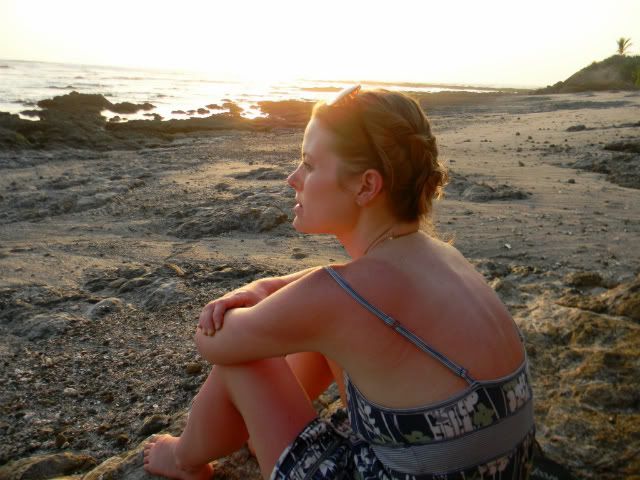 At Sunset the beach would become alive with the movement of these little guys. In numbers beyond my ability to count.
You will get plenty of pictures of sunset from me. I love the sunset. I love that the sun sets here just liek it does in Costa Rica. I love the promise that comes with the sun setting, that it will rise again in the morning. The understanding that when the sun sets it marks the ending of one day and leaves you with hope and anticipation for the the next. Yep I love the sunset!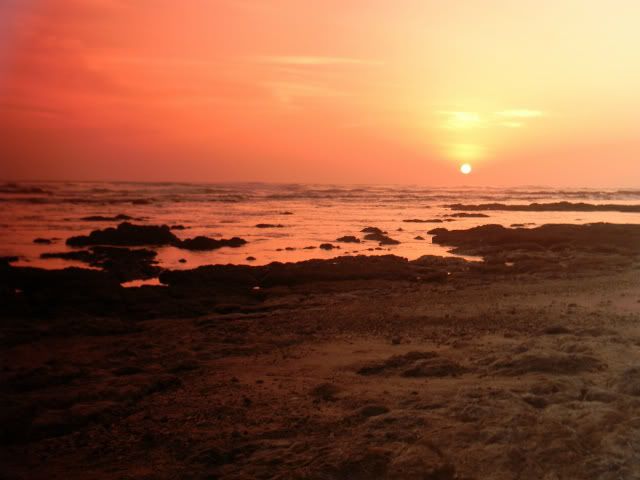 Okay well that is about it for today. I'll come back tomorrow with some more.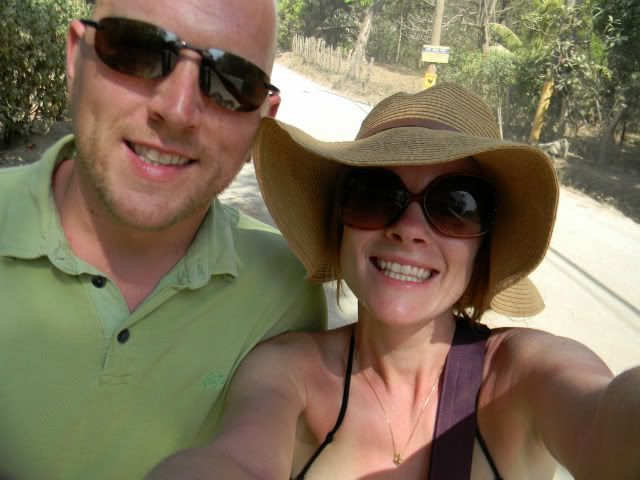 One last one of the two of us for the road. I can tell you I think I appreciated this vacation way more than I would have 10 years ago. And the husband says we won't be waiting 10 more for another. WINNING!