Ski to Sea came and went.
I could tell you I went into it completely calm and collected with no reservations, feeling like the rockstar that I am;) But that would be a lie. The night before I felt sick. So many people told me how hard it was, how I would be shredded, they asked if I had good knees over and over and I replied with a laugh and a no. Sunday morning Brian and I got up at 4am and I went for a pre run and began to pray. At this point my stomach was in knots. As we got closer to the mountain I began to shiver, it was strange...I was so completely humbled by the thought of that mountain, it was crazy. But as soon as we got to the lodge and so all those people anticipating their own legs and the leg I was to do, I got pumped. Ski to Sea was an amazing thing to be a part of. Its not your average race, there is a legacy that follows and proceeds it. People come form hundreds and thousands of miles to participate and each leg includes what some would say is the impossible, the extreme.
The start of my race was so funny as well as the end. I was watching for Ben our downhill skier but really didn't expect him for another 10 or 15 minutes when all of the sudden he appeared. So you can now picture a very frantic Jessica running through the snow alongside our skier who is shouting my name Rocky style, I'm shedding my extra clothes as best I can and hoping my teammates will pick them up. Thankfully Ben and I made it to the start of my leg simultaneously. And so then I started my journey with a smile on my face and laughing hysterically at the showing we just gave everyone standing around, and you know what I had no time to get nervous again and I thanked God for that.
The miles went by so quickly and as I passed others that were getting swallowed up and spit back out by that mountain I felt no pain. My joints didn't hurt. My knees were fine. And it gave me a feeling of being delivered. This may sound dramatic but what new. I have been told no in regards to my body my whole life, Dr.'s, teachers, my parents, pretty much anyone that knows my story. And I have tell you part of me was a scrawny 8 year old girl again running down that mountain...the little girl that could never play sports, that was laughed at in gym class and teased for her excessive use of an inhaler, made fun of for her size, asked countless times if she had an eating disorder, been teased for shopping in the little girls department way past the time it was cool, that girl rocked on Sunday and that part of me was healed. That little girl ran her bun down that mountain and thanked God for every step. That girl is now almost 30 years old and in great shape. And it can all be wrapped up in a pretty package and offered back up to the heavens because God knows how much I prayed for him to heal me, to make me strong, to make me able. And he showed me how and answered my prayers. And I will just say unless the no comes from God himself it is not a no it is something to pray harder for.
So many of you may have read that the timing chips were all messed up. They were and now they are fixed. So yesterday we got my accurate timing. I had my ending time and someone wrote Bens down. That being said my official time started and 9:20 and ended at 10:22 making my eight mile run finished in 1 hour and 2 minutes. Making my average split time 7minutes and 45 seconds a mile. Not the fastest time out there but my goal was 8 minute miles and I ended up beating that.
My race ended with the hubdub waiting for me at my finish line and his starting. He grabbed my face and planted a proud kiss upon my lips. I stood there and watched him take off completely dumbfounded and in a daze. Some official lady pulled me off the course practically throwing me in the grass. I wandered around and found our things and reveled in the finish. Then I picked up our belongings, planted our chair on the side of the road and tossed pistachio shells over my shoulder, praying that Brian was experiencing the same joy I just had.
And he did. He finished in 2 hours and 2 minutes...42 miles of fast rising on that road bike of his. I was so proud and he was too!
It was great day individually but the feeling of being on a team was totally there as well. Our team did great we finished way before we thought we would. And we each had our own personal victories to share at the end. I didn't get any pictures of the actual race. But I did get some afterwards.
Wish I had a team photo but I don't. Next year....Yep there will be a next year. I want another chance at claiming that mountain.
The brewer and beejer. The brewer rocked it on the kayak leg, he had his own victory and I must had his time was rad!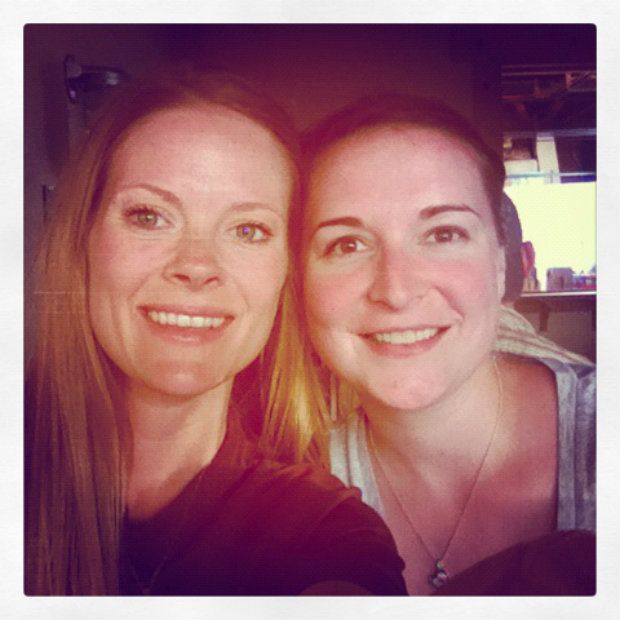 And me and the Rahster.
It was a good day! Team 45 rocks ...Go Team Troubled Assets!